Just in
The Bloody November Protests of Iran: One Year On
Last week marked the one year anniversary of The Bloody Aban (November) protests which unfolded in over 100 cities in Iran. What started as civilian protests against an overnight hike in fuel prices quickly became an expression of anti-government sentiment and calls for regime change. 27-year-old graphic design student Maryam*, 25-year-old construction worker Hamed*, and […]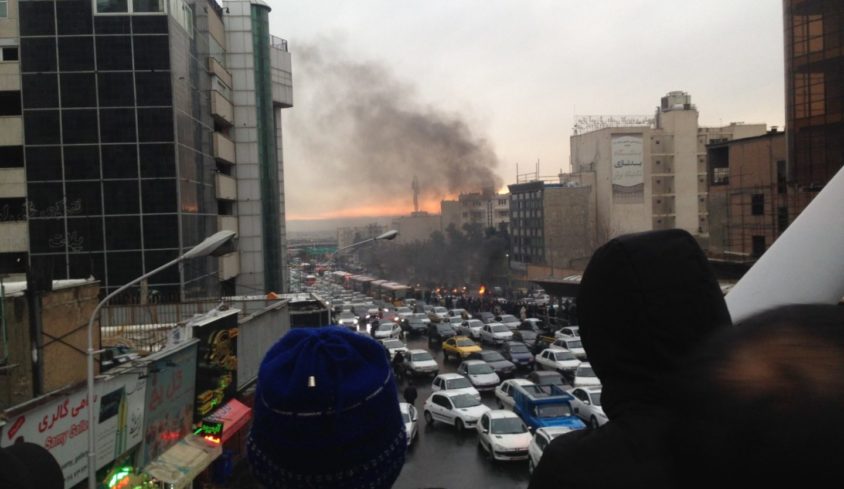 Last week marked the one year anniversary of The Bloody Aban (November) protests which unfolded in over 100 cities in Iran. What started as civilian protests against an overnight hike in fuel prices quickly became an expression of anti-government sentiment and calls for regime change. 27-year-old graphic design student Maryam*, 25-year-old construction worker Hamed*, and 30-year-old filmmaker Toufan* from Tehran speak to Guiti News about their experiences of the demonstrations, the changes that have occurred since then and the impact of foreign policy in looking towards the future of the people of Iran.
Guiti News is challenging the conversation surrounding migration. Guiti brings a unique perspective to these narratives: every piece is created in collaboration of European and exiled journalists and artists.
Text: Yara Golestani | Pictures: Mohammadali Najib, Middle East Images
---
"November. November '19. That same November which never opened its doors up as much as we knocked on it. The same November that none of us will ever forget however hard we try", recalls Maryam*, a 27-year-old woman, who, like thousands of others, took to the streets of Iran to demonstrate this time last year.
Beginning on the 15th November 2019, civilian protests erupted in more than 100 cities. These demonstrations were initially a reaction to the authorities' decision to raise fuel prices by as much as 200%. The Aban protests trickled into 2020, lasting until July and August, fueled in part by further outrage at the shooting down of the Ukrainian International Airlines flight 752 by Iran's Islamic Revolutionary Guard, which killed 176 passengers.
Yet, the rise in the price of fuel was one instance of many in a series of months and years of building frustration. Surviving under the iron fist of crippling international sanctions and widespread domestic corruption, Iranian citizens from all walks of life have suffered economically, socially and politically.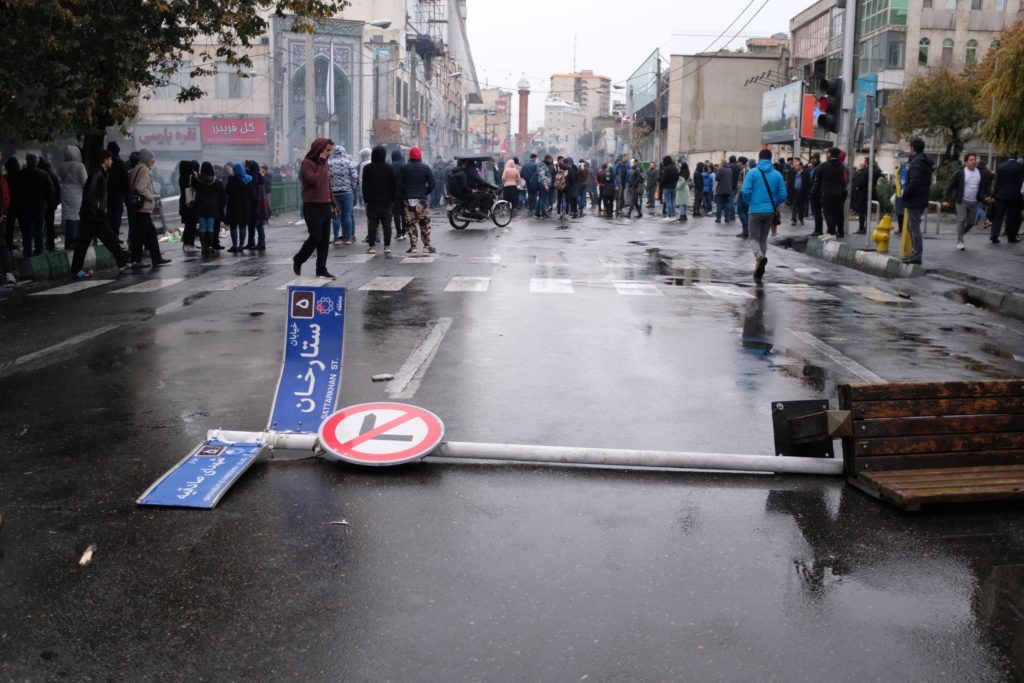 In hopes to engender more social freedom and better relations in foreign policy, Iran's population voted for Hassan Rouhani of the Moderation and Development Party in 2013, and again in 2017. Under Rouhani's leadership, Iran signed a multilateral nuclear deal, the JCPOA (Joint Comprehensive Plan of Action), with China, the U.S, Russia, the U.K, Germany and France. The deal was to limit Iran's nuclear activity, and in return, economic sanctions would be lifted on Iran. However, in 2018, President Donald Trump withdrew from the deal, thereby reinstating extremely harsh sanctions against Iran.
By the second and third day of the Aban (November) demonstrations, the intense anger directed at the hike in fuel prices quickly turned into outrage towards authorities and government policy, with people calling out for regime change. Protesters emerged in vast numbers. They were met with live ammunition by the Sepah (Islamic Revolutionary Guard), violence, harassment and a nationwide internet blackout.
"He needed help, but I couldn't do anything… and all I could do was just watch. And cry."
"I saw a lot of scary and dark things that night (15th November)", explains Maryam*, to Guiti News. "It had become really busy in front of the University of Tehran, in front of the University of Amir Kabir, in front of Seda-o-Sima (the national media broadcasting station). But the scene that stands out to me the most was at Meydane Azadi (Azadi roundabout) after the Sepah had shot the Ukrainian airplane. It was the same story there."
Maryam had gone with one of her friends, a Trans woman. She tells me that a huge number of women were there that night, estimating that around 70-80% of the crowd were women. Mostly everyone had wrapped scarves around their faces to hide their identities due to there being so many cameras around. But Maryam was not wearing her hijab, a choice she has made for the past few years, despite the fact that not wearing a hijab is punishable by law.
"I saw a lot of things that night. We were scared. Even now that I want to say it out loud my heart is beating so fast," she continues. "They shot a girl in the foot who was 20-30 metres in front of me and I saw her fall to the ground in front of my eyes. Two guards in plain clothing appeared and handcuffed a boy standing just in front of me. They pulled a cloth over his head and he was shouting for help… But I couldn't do anything. I felt so shit because all I could do was just watch. And cry."
"In these situations, you can't do anything", she says. "In these situations, you've gone there to release your anger. You've gone there just to be there. Maybe you knew from the beginning that there wouldn't be a positive outcome. That nothing would change. But you go to do the only thing which is left in your power to do. To be present."
Internet Blackout
According to a Reuters report, at least 1,500 people were massacred by authority forces within the first two weeks of the protests, as they cracked down on protesters. This number is disputed due to a near-total internet blackout imposed by authorities at the time, which stopped protestors from communicating with each other and with the rest of the world.
Hamed* a 25-year old protestor, tells Guiti News, "The internet connection had become very weak and we couldn't send each other any information. The internet was completely shut off. You couldn't get any information from anywhere. But, in Karaj, the scenes were exactly that of a war scene. Rubbish bins and vehicles had been set on fire, road signs and other signposts had been ripped to the ground. I called my sister who was in Aryashahr, she was in a state of shock. Behind her voice, all I could hear was gunshots, shouting and chanting."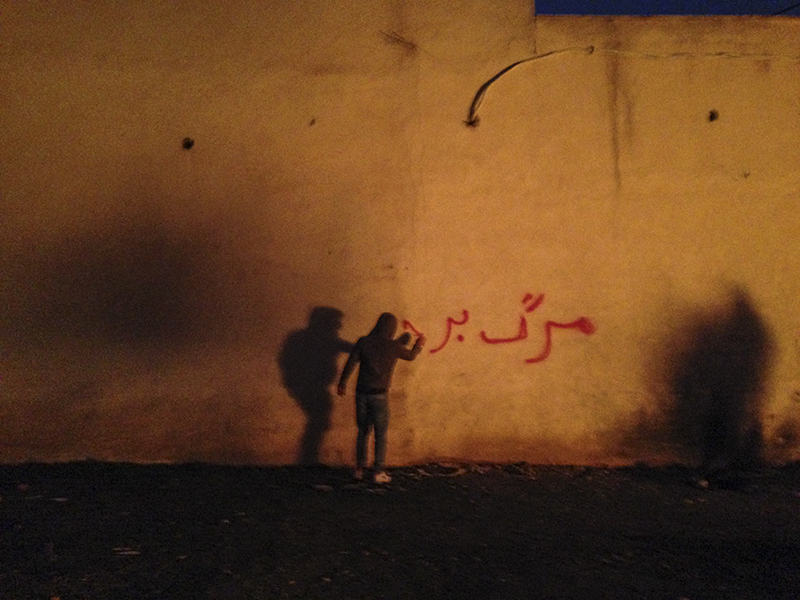 Amongst those indiscriminately murdered are known to be 14-year-old Nikta Esfandani, a music-lover and member of a theatre group, 17-year-old Mohsen Mohammadpour, a child labourer and construction worker, 49-year old Azar Mirzapour, a nurse and mother of four and 27-year-old Pouya Bakhtiyari, an engineer and lover of poetry and literature.
"Which November?"
One year on, Iranians and allies have taken to social media to share their grief and anger towards the government authorities' lack of accountability.
Hundreds have expressed their sentiments on Twitter, using the hashtag #كدام_آبان, "Which Aban (November)?". This hashtag was created following the news of a phone call between Poura Hashamdar, the sister of Mohammad Hashamdar, a murdered protestor, and a member of staff from the Supreme Leader Ayatollah Khamenei's office.
In an interview with Radio Farda, Poura Hashamdar explained: "They called my mother's mobile from the Supreme Leader's office. He said… you have a complaint? I said yes. He said what's the problem, what happened? I said, my brother was killed in November. He said, which November? I said the Bloody November of '19. He said, 'your case is being pursued', and that's all he said."
In response, one citizen tweeted, "the same November in which you gave direct orders to shoot protesters in the head, and not to shoot bullets into the air to prevent bullets from going to waste. The same November that you sent plain-clothed agents to arrest protesters out of fear for your own lives."
Lack of accountability
"The grief still continues", explains Toufan*, a 30-year-old protestor from the Aban protests, in conversation with Guiti News. "The fact that no one has claimed responsibility for these deaths and abuses means the people can't be at peace".
Tara Sepehri, Iran researcher from Human Rights Watch reported that, "One year after the November crackdown, Iranian authorities have avoided any measure of accountability and continue to harass the families of those killed during the protest. Families of hundreds of victims, most of them from the more vulnerable segments of Iranian society, deserve to see those responsible for the serious rights violations held accountable."
In contrast, those arrested during the demonstrations have faced sentences including the death penalty.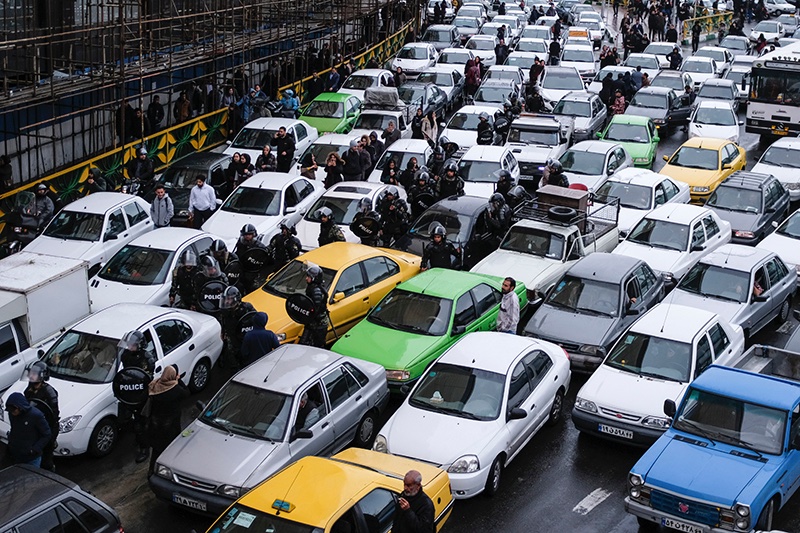 As a result of the impunity, an international People's Tribunal, the Aban (November) Tribunal, has been established by activists, Justice for Iran, Iran Human Rights and the world coalition Ensemble Contre la Peine de Mort (ECPM) in order to investigate the atrocities which took place.
"We have a culture of struggling, of fighting"
"No one is happy here. I don't know any friends who are happy here. There is no hope", Toufan describes. "They mostly just try to occupy their time and go forth. Even when you imagine future prospects, it's a far and dark reality. But I guess there is hope as he/she who goes out to protest goes because they have hope that change will come".
Concerning the impact of foreign policy and reflecting on the recent US elections, Toufan explains, "The US elections are very impactful for us. In the short term, Biden will come, and we will much more easily be able to engage in economic activities. So yes, the outcome allows us to survive in this situation. But long-term, if Trump had won… well the sanctions were proving to put more pressure on the people and causing them to erupt against the regime. But Trump or Biden are not the ones who will bring the change. I think that we should never depend on another country to help us. The people of this country have to act. I did hope that Biden would win after years of such suffering under Trump. But if you think that because Biden wins, everything will change, you're wrong."
Toufan thinks that change needs to come from the people; if there is to be any real hope for palpable change it will not come from the government itself. "People come from all walks of life but there's not enough unity between the different factions at the protests. There's no real common goal or organization. We need to change. But we have a culture of struggling, of fighting, even if it is a small percentage of us. This offers a bit of warmth and hope, although only a very little."
*Names have been changed.
---
Every week we share stories from around the world in English. Follow us on Facebook, Twitter, LinkedIn, and Instagram to stay connected.
Support our work and independent journalism with a donation to Guiti News.