Just in
The politics of exhaustion and juxtaposed controls: harmful migration governance at the Franco-British border without end in sight
"Camps appear and then are destroyed, people in displacement come and go, they are dispersed, pushed away, subjected to violence and abuse". In this opinion piece, Marta Welander, Director of the NGO Refugee Rights Europe, alerts to the living conditions of people in exile in the north of France, while looking at the events at […]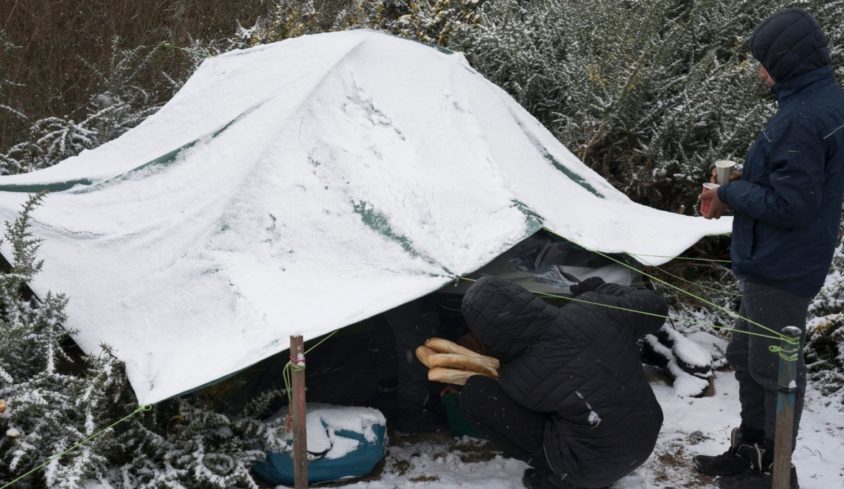 "Camps appear and then are destroyed, people in displacement come and go, they are dispersed, pushed away, subjected to violence and abuse". In this opinion piece, Marta Welander, Director of the NGO Refugee Rights Europe, alerts to the living conditions of people in exile in the north of France, while looking at the events at the Franco-British border.
Guiti News is challenging the conversation surrounding migration. Guiti brings a unique perspective to these narratives: every piece is created in collaboration of European and exiled journalists and artists.
Text: Marta Welander, Executive Director of the NGO Refugee Rights Europe, and doctoral researcher | Photos: Andreas Beissel and Abdul Saboor
---
"We pack up our tents, we stand in a line here on the street, and the police looks at our faces. If they see any new faces, they take them to the detention centre and then release them. […] The rest of us have to stand in a row and not move. They walk around and take tents that no one had time to rescue. If you don't pack it up, the police would take it and destroy it, but if you manage to pack up first, you can just put it back. So, it doesn't make any sense.  If they don't want us here, why don't they just get rid of us once and for all? I think they're trying to make us tired so we choose to return home or choose to go somewhere else. Otherwise, it wouldn't make any sense."
These were the words of Behnam, an Iranian man in Calais in December 2018, referring to the cyclical evictions of living spaces carried out multiple times per week by the French authorities, as he gazed over dozens of tents propped up across an industrial wasteland during snowfall and sub-zero degrees. The violent and harm-inducing situation for displaced individuals in northern France has been persistent, if cyclically so, since the early 1990s. Encampments have sprung up and been flattened to the ground, individuals have come and gone, been dispersed, pushed back, and then returned. Women, men, and children have suffered violence and abuse, and some have tragically perished.
As of March 2021, there are an estimated 1,200-1,300 displaced people in the area according to intervening associations. Amongst them are at least 30 children, 7 of whom are under 3 years of age, 6 under 5 years old, and 14 of whom have not yet turned 12. And still today, individuals are subjected to multiple evictions every week, continuous police harassment and forced dispersals, while associations work relentlessly to provide them with support, yet face continued intimidation by state authorities and other barriers to their work. In late February 2021, two larger-scale eviction operations took place (referred to the French state as 'sheltering' operations), whereby 126 persons were taken charge of by police and directed to reception and examination centres (centres d'accueil et d'examen de la situation, CAES). Some twenty people among them were sent to detention centres (centres de rétention administrative, CRA).
According to the group Human Rights Observers (HRO), whose mission is to document and denounce human rights violations perpetrated against displaced people in Calais and Grande-Synthe, people were forced to board buses to the CEAS without any information, making the 'sheltering' forced, unlawful and inefficient. Only days later, associations intervening on the ground could confirm that large numbers of the dispersed individuals had already returned to the area again, where they would now once again face regular evictions and abuse.
Juxtaposed controls and vast amounts of British funding
Within this context, it is essential to emphasise that extortionate amounts of British statutory funding have been injected time and again to boost securitisation measures and build new walls and fences in northern France, tacitly supporting the French police forces' uprooting and harassment of migrants. This is accompanied by the attempted depletion of the relentless grassroots solidarity and aid movements operating on the ground. Indeed, between 2010 and 2016, the UK Government spent the staggering sum of £315.9 million on border enforcement in northern France, reinforced by further security funding commitments in subsequent years.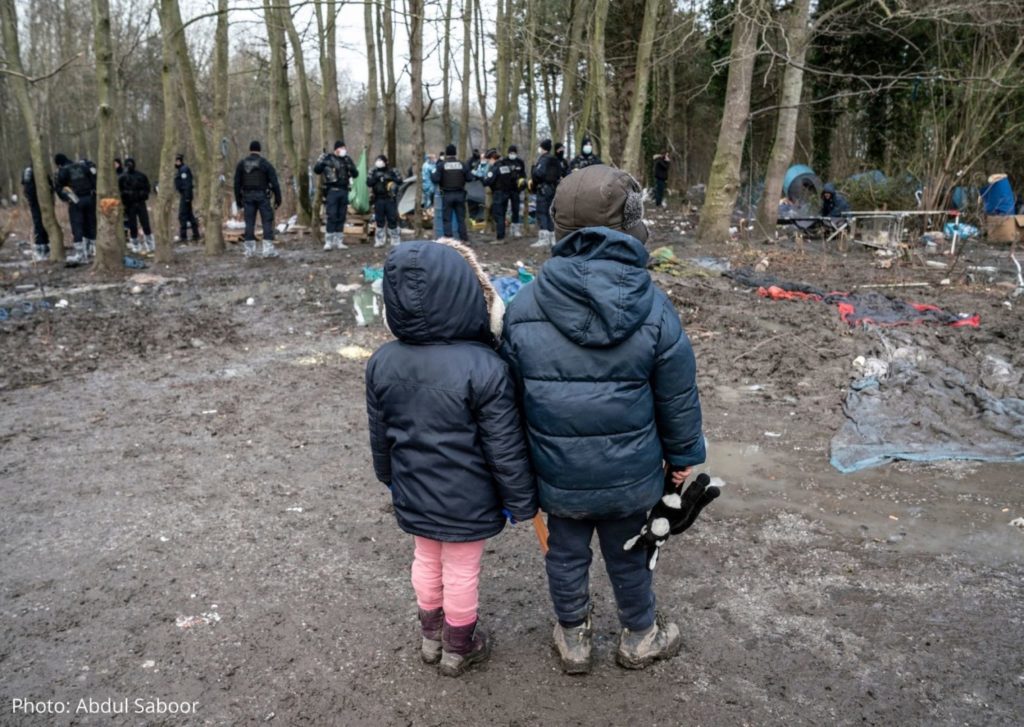 The UK follows a strategy which not only externalises border controls but also serves to export responsibility for policing and other matters to France, effacing UK legal responsibility for the brutality unfolding at its border. The offshoring of the UK's border with France has been in the making ever since then-President François Mitterrand and Prime Minister Margaret Thatcher signed the treaty for the Channel Tunnel in February 1986, followed by the signing of the 1991 Sangatte Protocol, 2000 Additional Sangatte Protocol, and 2003 Le Touquet Treaty, and given effect in Britain through The Nationality, Immigration and Asylum Act 2002 (Juxtaposed Controls) Order 2003.
The first actual juxtaposed controls were introduced on French territory in 1994, meaning that immigration checks took place prior to passengers boarding a train or ferry rather than upon arrival in the UK. This means that the UK border has in practice been moved from Dover to seven locations in Belgium and France (Calais, Calais-Fréthun, Dunkirk, Coquelles, Paris, Brussels, and Lille), with British border controls taking place on French and Belgian soil.
A "temporarily permanent" and absurd situation
The juxtaposed arrangements have been heavily criticised by rights groups arguing that this policy, in the absence of means to access the UK asylum system, contributes to a breach of the UK's international legal obligations by "circumventing the right to asylum, and as a result, also the protection against ­non-refoulement" (see also Amnesty International, 2017). As a signatory to the 1951 Geneva Convention and the subsequent 1967 Protocol, the United Kingdom has legal commitments to ensure the right to asylum, and protection responsibilities towards those seeking asylum. Nevertheless, individuals arriving at the UK border are at once prevented from reaching UK soil to seek asylum, and denied the possibility of presenting a UK asylum claim from outside the territory and thus pushed into taking treacherous, life-threatening, and unauthorised, often stowed away on lorries or risking their lives on small boats and rubber dinghies.
As such, the UK stands firm in refusing entry to prospective asylum seekers at its border with France. To put this into effect, it has deployed hundreds of UK Border Force (UKBF) guards to French territory, along with the opening of UK detention facilities (Short Term Holding Facilities) in Coquelles and Dunkirk, and the application of select UK criminal law powers beyond its territory. Indeed, these arrangements constitute a key contributor to the bottle-neck scenario in northern France, in which individuals become trapped in the violent, militarised UK-France borderzone.
The situation there has been described by some as "temporarily permanent" or "forever temporary"; a nomenclature which highlights the absurd nature of a situation which is at once temporary and transitory, yet seemingly permanent, due to the repeated destruction and re-emergence of settlements, continued dispersals and returns, arrivals and departures of displaced people passing through this transit point.
The politics of exhaustion
Arguably, the approach to migration governance in the borderzone could be described as a politics of exhaustion, consisting of a set of temporal, corporeal, and spatial tactics aimed to deter, control, and exclude. The first aspect of this politics of exhaustion is found in the recurrent and ritualised direct violence. Here, we find the use of beatings, rubber bullets, tear gas exposure (including its indiscriminate use), and regular pepper spraying, to the extent that these practices could be considered ritualised violence. Other forms of direct violence include the intentional and pointless destruction people's mobile phones.
A second aspect of the politics of exhaustion consists of acts of humiliation, dehumanisation, and racialisation. Recurring verbal abuse, often including racial slurs, shouting, heckling, and otherwise abusive or degrading language is commonplace. Dehumanisation is also experienced in the borderzone through acts like shoe confiscation, shoving, and commanding of obedience during nonsensical evictions through manifestations of power.
Furthermore, the withdrawal or denial of adequate state care, coupled with the hampering of grassroots food and tents distributions, contribute directly to the production of preventable vulnerabilities among the displaced people in the area. Impunity for interpersonal violence, a free rein for traffickers and criminals to exert control over vulnerable individuals, and an overall sense of "lawlessness" puts everyone in a heightened state of vulnerability; most notably minors and women.
The aforementioned acts of dispossession are also an integral part of the politics of exhaustion. Regular destruction and ruthless slashing of tents and confiscation of belongings (tents, sleeping bags, and blankets, as well as other basic necessities such as drinking water, mobile phones, and personal paperwork), in front of their dispossessed owners, risks taking their tolls on people's mental health. Charitable supplies are depleted and require constant renewal, which also has an exhausting effect on volunteers and aid workers.
Moreover, the continual shrinking of people's access to space is carried out through the erection of fences, razor wire, and spikes, specifically targeting people's resting spots and communal spaces. This form of "hostile architecture" also includes the tactic of "defoliation," whereby trees and other greenery is cut down to lay bare the informal settlements, thus removing any pretence at privacy and community.
In addition, forced (im)mobility is utilised as a tactic of the politics of exhaustion. On one hand, individuals are confined or detained when attempting to move forward, as authorities ensure their continued immobility, while on the other hand, forced mobility through dispersals, removals, and deportation is also used to exhaust people by convoluting their journeys and delaying recourse to an effective solution to their predicament.
Finally, a constant production of uncertainty, undercurrents of threats, and an omnipresence of death permeate people's daily existence in the border zone. Even in the absence of physical violence, individuals are waiting anxiously for violence to recur, leading to constant hiding and caution. The risk of death, and the lack of accountability in cases of death, contribute further to anxieties and undercurrents of threat.
A strategy aimed at the "conduct of conduct"…
While many of the methods and practices outlined here are echoed as migration control practices in migratory contexts across Europe, these are converging and multiplied in the context of northern France. When sustained over time, they are best understood collectively as constituting an entire strategic state approach, rather than being isolated or incidental undertakings by state actors. Thus, the juxtaposed border arrangements between the UK and France have not merely led to the localisation of the UK's physical border controls to an extraterritorial space; the 'border' has also entered into spaces of everyday life in the borderzone. Traditional spatial interdictions and restrictions emerging from non-entrée policies, reliant on tactics such as confinement, bordering fences, and deportation, have been successively complemented by more insidious, temporal and corporeal biopolitical technologies of bordering. These technologies seek to render life pliable and mobility projects governable, in order to re-gain a hold over human migration.
Indeed, the politics of exhaustion appears to be designed to attack people's resilience and ability to persist and survive the most adverse of situations. It eliminates possibilities for wellbeing, rest, and stability, producing a sense of meaninglessness and "emptiness of existence." This brings to mind analyses on technologies of "intent management" in the context of Australian border controls, and what has been referred to, in other contexts, as technologies for the "conduct of conduct."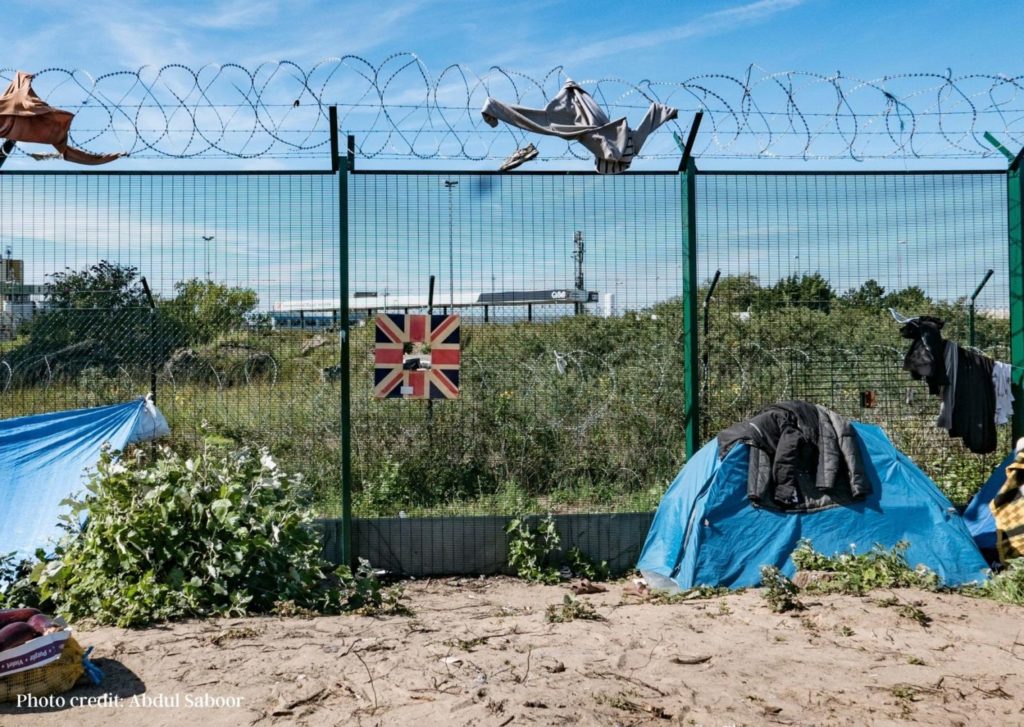 …and "auto-expulsion"
Along similar lines, Behrouz Boochani, a renowned Kurdish scholar and writer who was held in detention in the Australian-run detention centre on Manus Island for several years, noted that "the system in these prisons has been created so that incarcerated refugees experience an unbearable amount of pressure, reach the point of hopelessness, and finally decide to return to their country of origin". Others have theorised the notion of "auto-expulsion," by which Roma individuals are met with conditions that make life unbearable, and which makes them so worn out, that they remove themselves. This resonates strongly with the notion of the politics of exhaustion at the UK-France border, which is often times anticipatory of transgression, rather than applied as punishment, for unauthorised border crossings.
Post-Brexit: little hope for change
Prospects for change, and an end to the politics of exhaustion in the UK-France borderzone in favour of a more humane and constructive approach, are currently bleak. The exit of the United Kingdom from the European Union did not lead to a questioning of the bilateral agreements between the UK and France on police and judicial cooperation in the borderzone, as many would have hoped.
Rather, July 2020 saw the signing of a new bilateral agreement aimed at "combatting" channel crossings, through the return of prospective asylum seekers to France, and through the establishment of a new UK-France intelligence unit composed of six French and six British police officers. This occurred during a period in the spring and summer of 2020 when continued small boat crossings from northern France sparked heightened media attention and renewed policy debates in the UK, which, of course, coincided with the final stretch of the Government's attempts to steer its Brexit plans.
The Home Office, under the leadership of Home Secretary Priti Patel, has overall been taking an extremely hard-line approach towards immigration throughout 2020 and 2021 so far, with a heightened rhetoric of "illegality." As part of this policy line, Patel appointed former National Crime Agency executive Dan O'Mahoney as "Clandestine Channel Threat Commander" responsible for "tackling illegal attempts to reach the UK" and "making the Channel route unviable for small boat crossings," marking a reinforcement of the border as a site of "criminality." In this context, the Home Office admitted that it was considering using water cannons and nets to stop small boats from making the crossing.
Efforts to "make the route unviable"
In a Daily Telegraph interview, O'Mahoney explained that nets could be used to clog boat propellers, thus causing boats to come to a standstill: "It's that type of thing, yes. So, safely disabling the engine and then taking the migrants onboard our vessel." The idea of taking individuals to oil rigs more than 5,000 miles away in the Ascension Island in the South Atlantic, where they would be locked up, were also floated.
Precisely in parallel with such policy discussions, the tragic death of yet another person in the borderzone, Mohamed Khamisse Zakaria, was announced in November 2020. Mohamed's friends, or 'travel companions' to use their own words, issued a statement in which they expressed grief, and mourned not only the death of their friend, but also called out the brutality of the border and the absence of legal passageways to the UK:
"On the 19th of November 2020, on the A16 road, a young 20-year-old Sudanese man lost his life and his dreams. He was our compatriot, our brother, our friend […] Our hearts, our consciences, and the conscience of humanity cry out as we think of his 20 years of life. Here is an echo of our cry, that of the displaced people of Calais: 'We do not know what to do, we would like to enter the UK legally, we dream of a life of dignity, of a human life. The circumstances weaken us, but our hearts are strong, and hope pushes up to cross borders. […]' As you know, we are here out of necessity, after having gone through many sufferings on the road. The police and governments must understand this."
Whilst such deaths ought to prompt policy discussion on how to prevent future fatalities and ensure viable safe routes to protection, Mohamad's passing coincided instead with the UK and French governments' announcement of a new administrative agreement signed by interior ministers Gérald Darmanin and Priti Patel on 28 November 2020. The ministers "reaffirmed their commitment to make this route unviable".
No initiative can be tolerated if it violates the fundamental rights of displaced persons
In this enhanced agreement, the two states focus on increasing the number of interceptions of small boats on the channel, and a doubling of the number of gendarmes, French police, patrolling the beaches in northern France.
The aim is to "significantly enhance law enforcement operations against illegal immigration." There would also be efforts to strengthen the surveillance technology used, including drones, radar equipment, optronic binoculars, and fixed cameras, in order to allow France more efficiently search and clear areas and deploy officers "in the right place at the right time".
It is hence a matter of "increasing the number of migrants and facilitators detected and prevented from entering the water." While it is not possible to tell for certain where these latest policy developments will lead us, the picture is certainly bleak. In this context, it is of pivotal importance for civil society, activists and allies to continue to oppose the current system, where the juxtaposed controls and the politics of exhaustion are brutalising displaced people in the UK-France borderzone and blocking their access to safety.
We must recall, as the Commission Nationale Consultative des Droits de l'Homme (CNCDH) rightly emphasised in its opinion on the situation of exiles in northern France in February 2021, that no initiative under the State's migration policy to "control flows" can be tolerated if it has the effect of infringing the fundamental rights of exiled persons.
Seeking a more just future
It is important to remember that the dynamics at the UK-France border are situated within the wider context of European migration governance, which has far too often led to widespread human suffering across Europe, and within underlying structures of deeply cemented global inequalities, marked by Europe's history of colonialism, where some of the world's most disadvantaged groups of people are excluded and prevented from accessing their share of the world's resources and spaces of safety.
Eventually, these are structures which must be challenged in the same way that people throughout history have refused to accept the system of colonialism and apartheid, allowing us to continue to seek a more just future.
---
Every week we share stories from around the world in English. Follow us on Facebook, Twitter, LinkedIn, and Instagram to stay connected.
Support our work and independent journalism with a donation to Guiti News.