Just in
Culinary Tales in Exile: Food as More Than Sustenance
In our cultural series, Culinary Tales in Exile, we explore the sentiments behind food with recipes and reflections from ten members of the Guiti News community from migratory backgrounds spanning across Iran, Palestine, Bolivia, India, Chad, Portugal, Pakistan, Syria, Brazil and Lebanon. In this opinion piece, two of the contributors, Guest Writer Diva Garg and […]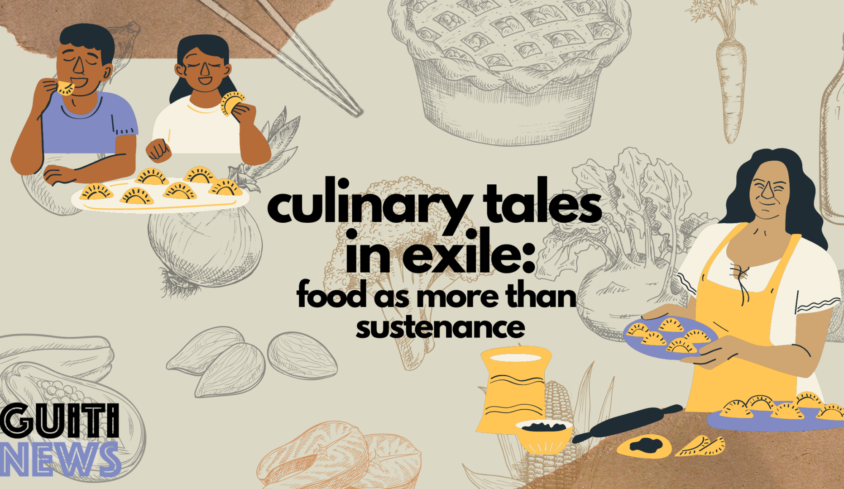 In our cultural series, Culinary Tales in Exile, we explore the sentiments behind food with recipes and reflections from ten members of the Guiti News community from migratory backgrounds spanning across Iran, Palestine, Bolivia, India, Chad, Portugal, Pakistan, Syria, Brazil and Lebanon.
In this opinion piece, two of the contributors, Guest Writer Diva Garg and Guiti News journalist Mana Shamshiri delve deeper into the contributions and the historical, political, cultural and psychological significance of food practices for themselves and other people of migrant backgrounds.
We understand that food is complex for all people groups, both exiled and non-exiled. In this article, we explore a particular migrant experience informed by our own personal insights, that of the Guiti News community, and academics and psychologists in the field.
Guiti News is challenging the conversation surrounding migration. Guiti brings a unique perspective to these narratives: every piece is created in collaboration of European and exiled journalists and artists.
Text: Diva Garg and Mana Shamshiri | Images: Mana Shamshiri, Leslie Gonzales, Sahil Kotwani, Haitham Karachay, Hussein Dirani, Juliana da Penha, Elias Mattar.
---
Cuisine is an expression of culture as much as literature, poetry, folktales, art and history. As migrants, exiled people and children of diaspora, food goes beyond mere sustenance. Whether we have decided to migrate, or forces beyond our powers have pushed us into other geographies, the rituals of sourcing ingredients, preparing, cooking, and eating are ways that migrants tie their heritage to the sense of 'home' (the physical space as well as the abstract emotional concept). Certain practices, flavours, tastes, and smells can be therapeutic, comforting, identity-affirming, political, signifiers of belonging and community, or can make us feel closer to the land and the ones we love but can no longer reach.
Foodways: the importance of using traditional ingredients of our homelands
From cultivation to sourcing, the acquiring of traditional ingredients is a crucial aspect to creating a sense of 'home' through food. While it may be difficult, often people from migratory backgrounds go through significant lengths to retain the traditional ingredients that go into preparing their 'home food'.
We spoke to Food Studies scholar Sally Baho, whose work focuses on the role of food in Syrian migrants' integration and 'homing process' after relocating to the US. The term, 'homing process', means the potential to attach a sense of home to life situations.
She told us about the importance of foodways: the act of sourcing, preparing and consuming food, which includes attitudes, customs, traditions, and rituals and is part of the homing process. Baho said, "food preparation starts at picking the produce."
Baho related her research to her own personal experience of being taught the food preparation process by the women in her family. Describing it as a "pilgrimage", Baho's family would go to lengths to travel far to the few Middle Eastern markets in the US to buy traditional and "authentic" ingredients.
Traditionally, markets are a reflection of the people's culture, what they popularly buy, what is in season, the terroir of the produce (the particular environment in which produce is grown, which gives it a special character) – and the spirit of the local people, found through conversations and interactions. When asked to speak about her chosen dish, Majao de ch'arki, Leslie Gonzales, our contributor from Bolivia, casted her memories back to the markets of sunny La Paz with her mother: "We would walk through the amazing smells of the flower market on the way, and talk to people in the beautiful, colourful markets full of fresh vegetables."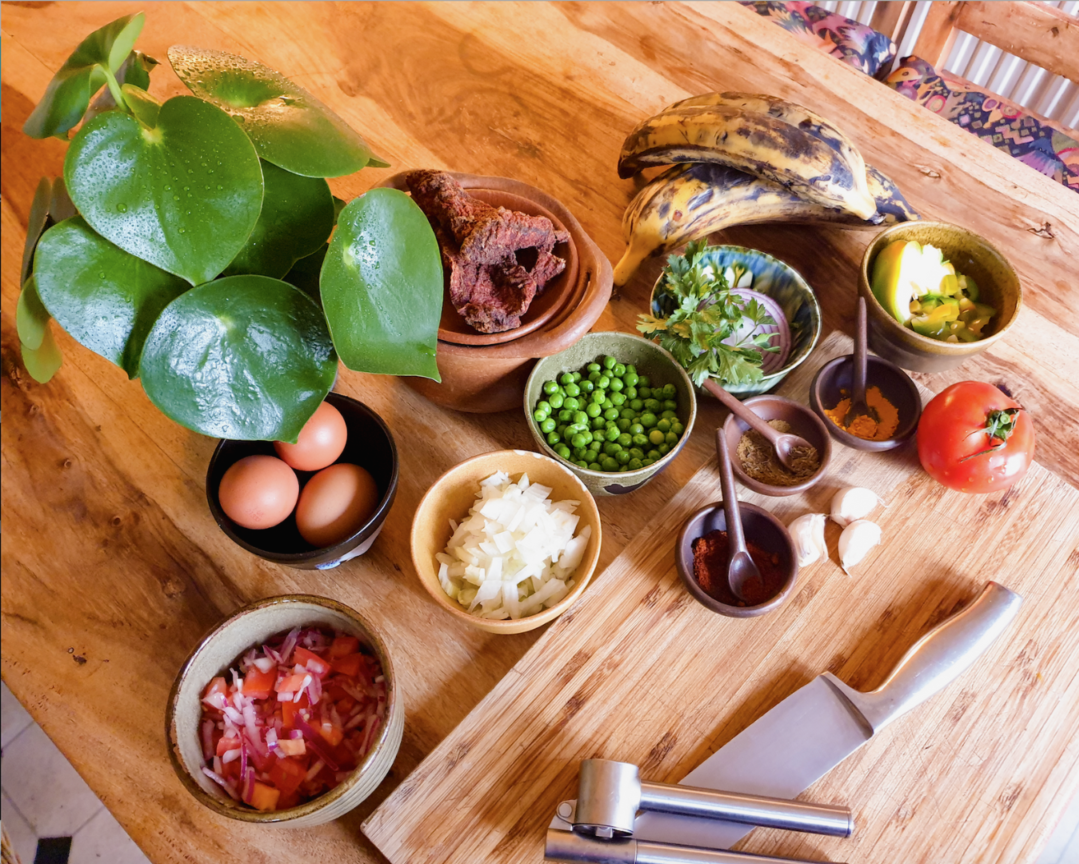 While it's not always possible for people from migratory backgrounds to access the same markets and ingredients away from their home countries, it is true that in an increasingly globalised world acquiring such ingredients has become more accessible. Baho expressed that for the Syrian families she interviewed, although the ingredients sourced were sometimes not perfect, "the intent is to create home" and thus the use of substitutions were effective and "equally as important [in re-creating home], especially in the migrants' situation".
In the same way, our contributor from Palestine, Elias Mattar, who shared his recipe for Fatayer, explained: "In my village Ibillin in the Galilee, farmers and families collect the main ingredient for these chard pies, Seleq, a wild type of chard… I could not find Seleq in London but one day I experimented using rainbow chard and normal chard that looked similar to the wild Seleq and it worked. Sometimes close enough smells and flavours are all you need to bring home closer."
While traditional ingredients play a central role in re-creating home within a dish, there is something more to it than the merely physical.
Beyond the physical: into the spiritual…
Nafas. نفس. Literally, it translates to 'breath' in Arabic, but as Sally Baho tells us, it's a term used to describe "your spirit… your soul, love and energy" which makes some people's food extraordinarily delicious. The concept of nafas highlights that cooking goes beyond the physical and is susceptible to individual energy.
Diva shared similar sentiments in her contribution: when she makes her khichdi, it's different from when her grandmother or mother make it. The magic that she has always found is that it will never taste the same as her mother's cooking, because of the effect of their individual nafas.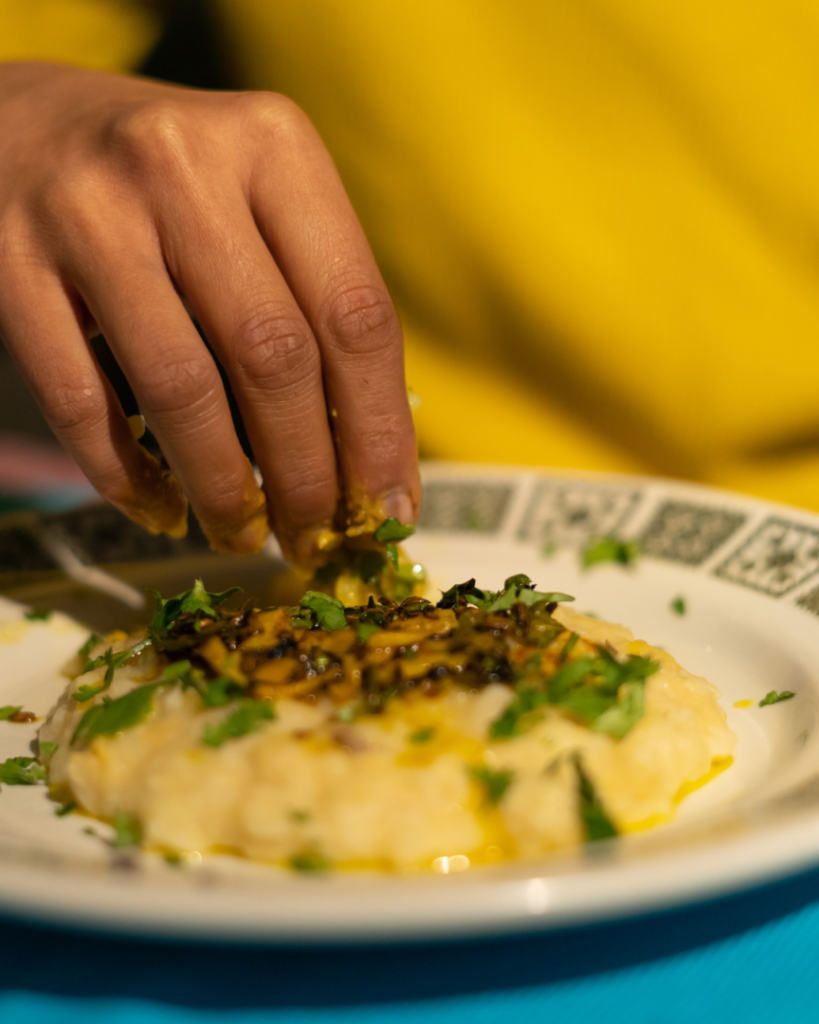 Our contributor from Pakistan, Guiti News journalist Mateullah, who shared his biryani recipe expressed, "making biryani can be anyone's hobby but the hand-made biryani of the family cannot be made by just anyone". He explained that only his mother can make biryani in a particular special way, even if someone else uses the same ingredients.
The act of cooking can also be a therapeutic and emotional process to nourish our minds and souls, not just our bellies. Elias Mattar agreed, "[Cooking] always makes me slow down and be mindful and gives me space to reflect while connecting with my heritage."
…and the psychological
In collaboration with Freedom From Torture, therapists Saba Stefanos and Shamsi Mahdavi set up weekly group therapy sessions in the form of bread-making workshops for asylum seekers and victims of torture which ran for 11 years. They told us about the therapeutic aspect of the process of preparing bread. Mahdavi explained, "The act of kneading is very relaxing, because you physically let out the pressure and stress".
Stefanos continued, "for refugees seeking asylum in this country, it was incredibly empowering to create their own bread, where they could experience a small amount of freedom and control in a system which renders them poor and unable to afford food, or be provided food they would like to eat during the immigration process."
Mahdavi added, "That sense of being able to create something in a situation where you are helpless, as a refugee, has a big impact on your psychological well-being."
A safe space was created where the sense of happiness, safety and security reminiscent of flavours and memories of home created through cooking assisted the asylum seekers to open up and process their trauma.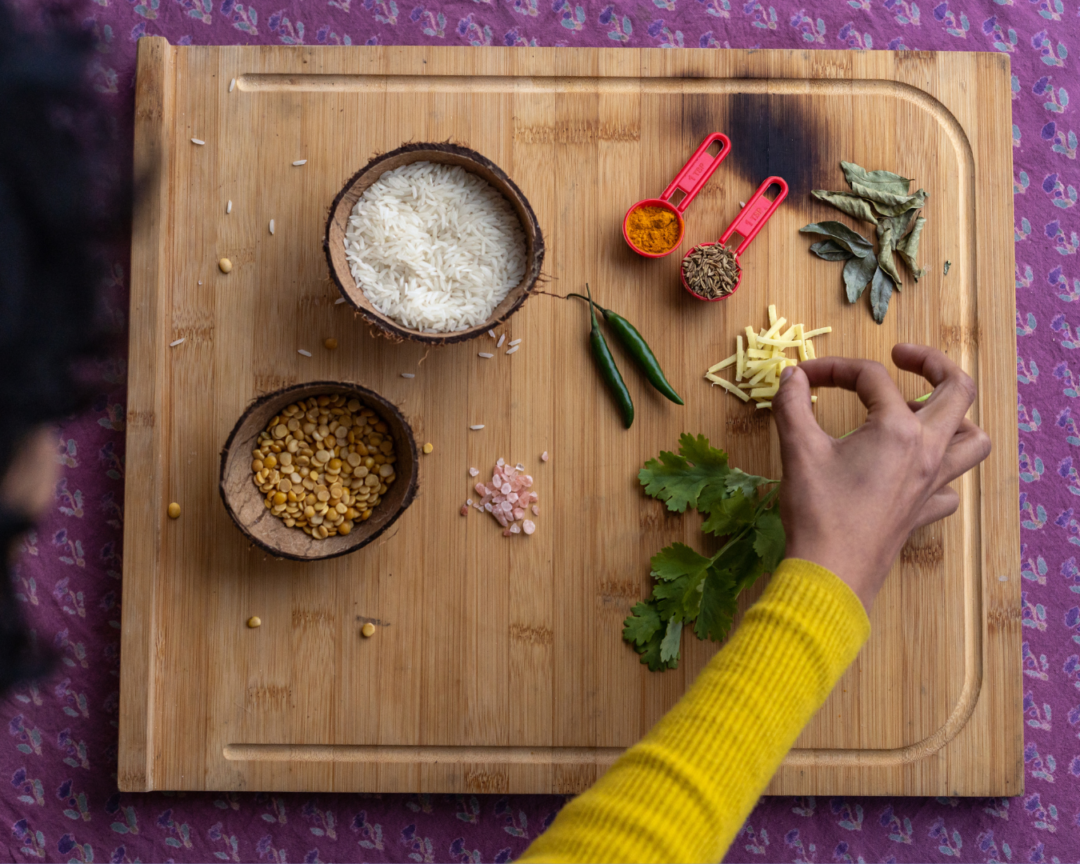 The Mother, The Motherland, The Matriarch
Another common thread we saw in the contributions in our Culinary Tales in Exile series was the constant connection of food to the mother.
"I have chosen to share Muhammara because it is one of my favorite recipes passed down to me by my late mother. She taught me everything I needed to know about food and life." – Haitham Karachay, Syria (Muhammara)
"One of the greatest gifts I inherited from my mother was knowing how to cook without any worries or trouble. When I cook, I am overjoyed as I remember that I have not forgotten our culture… Happiness is right there, within my reach." – Adam Jibril, Chad (Shorba and Zalabyas)
"I remember whenever my mother starts to cook it and the delicious smell fills the entire kitchen… This is one of my mother's most favourite dishes, and I chose this dish because it reminds so much of her." – Hussein Dirani, Lebanon (Makloube)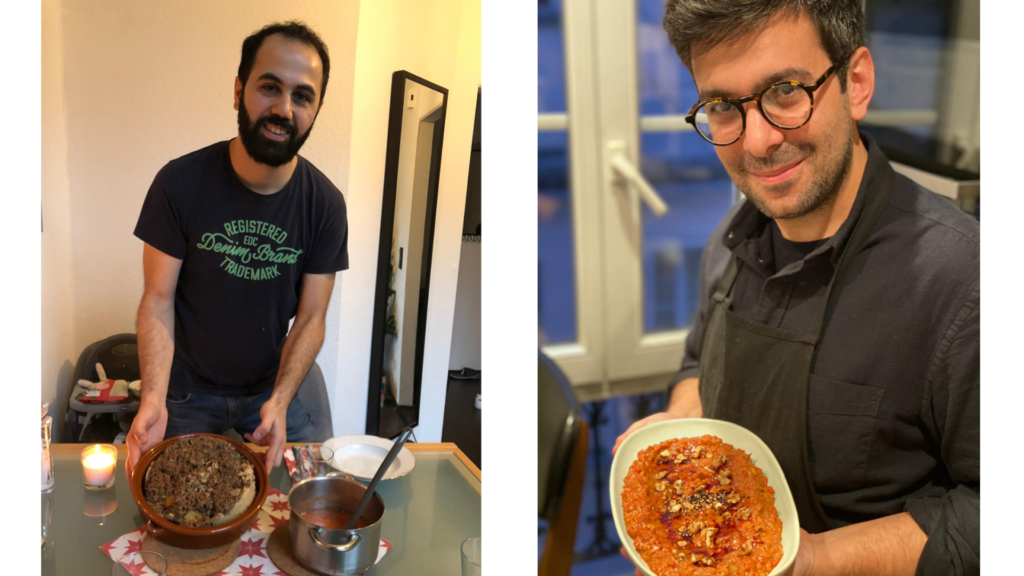 We often find that metaphors used to describe 'home' are related to the symbol of the mother. The archetype of the 'mother' represents life-giving, nourishment and a sense of security and comfort. For many of us, our mothers and ideas of the motherland create a cradling sense of security and belonging which we recognise from the womb.
Dr Nazee Akbari, psychologist, explained: "Biologically, our existence is dependent on our mother's existence, they are the primary care-giver. This can also be a grandmother or father if there is no mother present. Mothers give children a feeling of safety, of reassurance and shelter. To function, as humans, we need to feel secure and wanted and accepted. The person who usually maintains this for us are our mothers. Our second instinct, after breathing, is to eat – our mothers have maintained this for most of our lives."
She continued, "When people think about home, they automatically think about the 'mother'. Because the safety, shelter and home reminds us of the mother. It's not that you remember your mother as a person, you remember the feeling of security and safety."
So, the endeavour to reconnect with the mother and the motherland through engaging with cooking food from one's home, may have at its root an ongoing longing to cast our memories back to the sense of safety and security, and to heal from our first exile from the bodies of our mothers.
For a lot of us, especially those living far away from our mothers or primary care-givers, the way they have transported their nurturing, love and affection is through the alchemical secrets of their food. We carry these tokens with us, a thread of connection to our mother figures and to the motherland, held together by memory.
Breaking bread: belonging to a sense of community
"Sharing food becomes a vessel to share love. In many cultures, like Persian culture, food is a symbol of affection. We show our care and love and compassion to our guests in this way", Dr Nazee Akbari explains.
The act of sitting down and breaking bread with one's community is an important ritual. For this reason, food symbolises relationships and becomes an important expression and aspect of community life. Rituals of cooking and eating blend families from different communities together, often through festive events and celebrations. This establishes a shared experience, shared joy, collective memory and thus a shared group identity.
Duha, from Syria, who shared with us her recipe for Kebbe, noted her chosen dish as a meal of celebration; one that is made with the involvement of the family, and always with busy surroundings. She reflected, "Currently, I live alone. Therefore, I make the kebbe in small quantities and I eat alone. The taste is there, but the atmosphere is not".
Saba Stefanos and Shamsi Mahdavi also affirmed how the community aspect of the bread-making workshop and creating a sense of "home" away from home was crucial in the psychological healing and integration processes.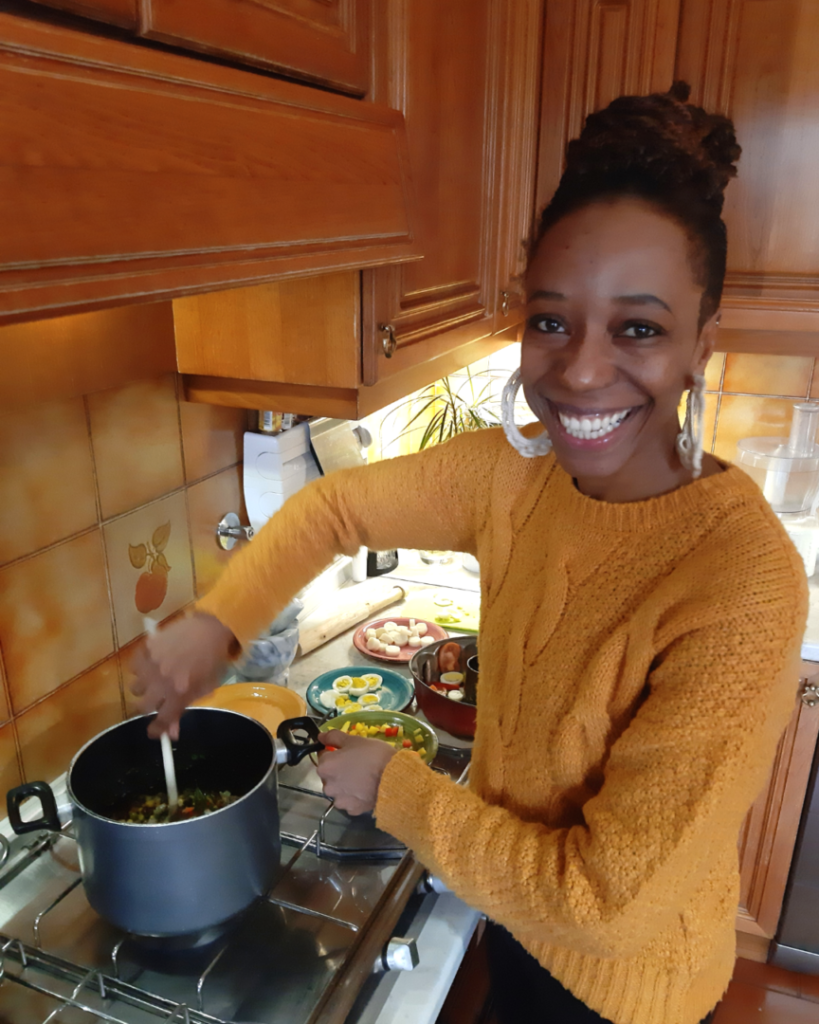 "Sharing food is significant for migrants", Dr Nazee Akbari continued. "Migrants come from collectivist societies, where sharing is central. This includes food. It means you confirm your identity by sharing food. When migrants come to individualist societies like the UK, Europe and the US, people have a culture shock. Psychologically, there is a large amount of bonding, safety and connection when sharing a meal together." Individualistic cultures are oriented around the self, being independent, instead of identifying with a group mentality, whilst collectivist societies emphasise the needs and goals of the group rather than the individual.
Dr Nazee Akbari commented, "The purpose of sharing food becomes even more significant when migrants come from impoverished areas where food is rare, then sharing meals becomes all the more special and bonding."
An act of sustaining culture against cultural erasure
People from migrant backgrounds also often may engage with the rituals of creating and consuming food as a symbol and expression of resistance against cultural erasure. There exists a fear of forgetting age-old traditions when acclimating to a land which is so different to one's original. This can often be compounded by feelings of loss of identity.

Elias Mattar told us, "Growing up being a Palestinian minority in Israel, I was forced to hang on to anything that might be a manifestation of my identity. When you are not allowed to learn your own history in the education system you probably will turn to your aunts' and grandmas' handwritten recipes. By cooking and serving those dishes I am learning my history, sharing it and… I am allowed to remember it."
He added, "Those dishes are much older than the same country that is trying to claim ownership of them… [Cooking such dishes] becomes the tangible manifestation of the past. In this way our heritage will be never lost, it is alive and bubbling in our pots and no one can take this full sensory experience from me and from my collective… Our heritage will never be forgotten, even if my grandma's dish is culturally erased and her kitchen and home was destroyed by the colonisers. Each time I cook Palestinian food I feel a triumphant and indeed empowering feeling."
Creating a hybrid migrant food culture
It is also incredible to recognise the transformation and evolution that migrant people go through in finding their own identities, tastes, and flavours in new geographies, and creating a hybrid food culture influenced by their past and present.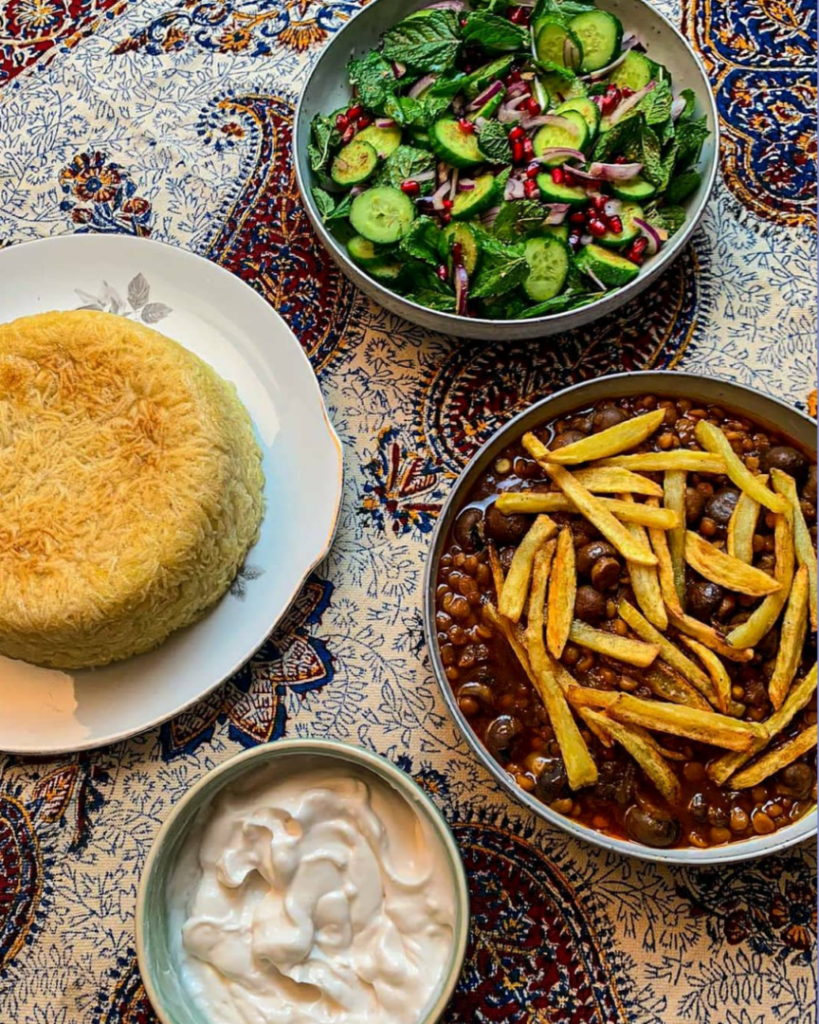 Mana's exploration of vegan alternatives of Iranian cuisine is an example of this kind of adaptation. Her belief is that her heritage does not have to be abandoned because of sustainable and ethical choices that she chooses to subscribe to. For Mana, cooking and eating the way her ancestors did, such as in her alternative vegan recipe for Khoresht-e-Gheymeh, affirms her identity and ties her to Iran, her family and culture, even though she is far from Iran in distance.
Engaging in the entire food experience, for us, and for other migrants, can be an expression of creativity and a tool for cultural integration and communication. It is layered with people, memories, emotions, metaphors, nostalgia, and allows us to carry a morsel of 'home' with us wherever our journeys may take us in the world.
Find the full list of our contributors and their recipes:
---
Every week we share stories from around the world in English. Follow us on Facebook, Twitter, LinkedIn, and Instagram to stay connected.
Support our work and independent journalism with a donation to Guiti News.