Just in
Comparative analysis: When will the world be vaccinated? And will it include people in displacement?
As countries around the world scramble to get their populations vaccinated, the World Health Organisation (WHO) describes vaccines as a "vital tool" in the global fight against COVID-19. Since the approval of various vaccines in December 2020, some countries have leapt ahead of others in procuring and administering vaccinations. Governments such as Jordan, Serbia, the […]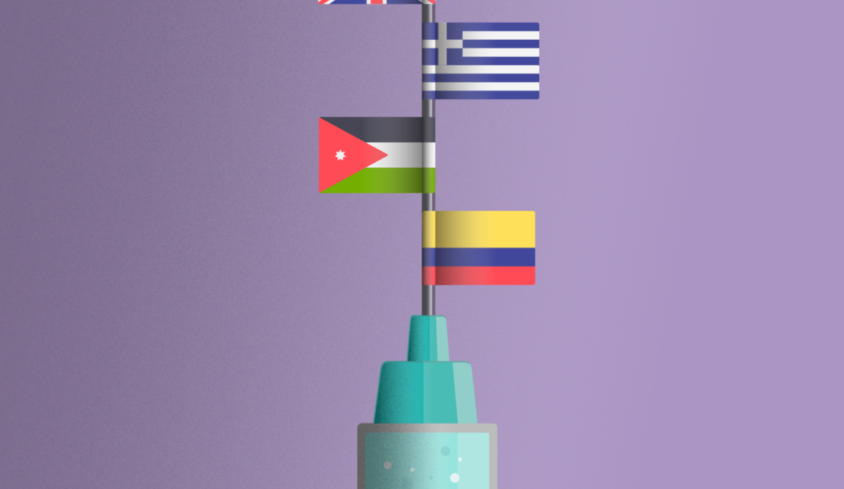 As countries around the world scramble to get their populations vaccinated, the World Health Organisation (WHO) describes vaccines as a "vital tool" in the global fight against COVID-19. Since the approval of various vaccines in December 2020, some countries have leapt ahead of others in procuring and administering vaccinations.
Governments such as Jordan, Serbia, the Netherlands and Spain, have prioritised refugees and asylum seekers in their vaccine strategies. Additionally, the UNHCR, the UN Refugee Agency, has called for the inclusion of refugees, internally displaced, and stateless people in vaccination plans.
The availability of vaccines for already marginalised members of society such as asylum seekers is a topic of concern. Guiti News uncovers the discrepancies in vaccination rates for under-served communities such as refugees and migrants, and the wider national population as well as between Palestinians and Israelis.
Guiti News is challenging the conversation surrounding migration. Guiti brings a unique perspective to these narratives: every piece is created in collaboration of European and exiled journalists and artists.
Text: Marco Marcelline and Melis Omalar | Image: Shivy Das
---
Palestine / Israel
West Bank & Gaza population: 5,194, 206 | Confirmed Covid-19 cases: 274,690 | Total deaths: 2,923
Israel's population: 8,765,247 | Confirmed Covid-19 cases: 836,504 | Total deaths: 6,312
While Israel has been fast at vaccinating its citizens (59% of all Israelis have received at least one dose of a vaccine), it has been widely criticised for initially choosing not to vaccinate Palestinians in the occupied territories of the West Bank, East Jerusalem and the blockaded Gaza Strip.
In an article from Médecins Sans Frontières (MSF), Matthias Kennes, the MSF Medical Adviser for Palestine states that Israelis are "more than 60 times likely" to have a vaccination than Palestinians.
While Israel has administered to its citizens a total of 10,153,942 doses (equivalent to 114 doses per 100 people), Palestinians in the Israeli controlled West Bank and Gaza Strip have received just 32,000 doses of vaccines.
In February, it was reported that Israel had stopped 1,000 of Russia's Sputnik V vaccine from entering the Gaza Strip.
The diverging situations could not be more stark: while Israelis have emerged from lockdown and are now enjoying pre-pandemic freedoms, Gaza has been placed under a full lockdown by Hamas as Covid-19 cases have risen.
Greece
Greece's population: 10,383,189 | Confirmed Covid-19 cases: 304,184 | Total deaths: 9,135
The Greek government has still not started vaccinating asylum seekers living in camps with conditions where the virus can easily run rampant. These camps, Moria, Samos and Lesvos, are overcrowded, and do not have adequate access to water, sanitation and hygiene facilities. On top of this, in September 2020, a devastating fire that swept through the Moria camp on Lesvos left thousands without shelter. The right-wing governing party, New Democracy, has argued however that since most asylum seekers are young or middle aged, they are not in the line for early vaccination. This is despite the fact that the European Commission's list of priority groups includes people who "cannot socially distance and who are socio-economically disadvantaged."
United Kingdom
UK population: 68,170, 024 | Confirmed Covid-19 cases: 4,308,305 | Total deaths: 127,161
In the United Kingdom, it has been reported that undocumented migrants do not feel comfortable interacting with the National Health Service (NHS). For example, in a survey conducted by the Joint Council for The Welfare of Immigrants (JCW), almost half of all the migrants surveyed (43%) said they would be scared to access healthcare if they fell ill, with 11% fearing being charged, and 25% worried that their data would be shared with the Home Office. The survey shows that even among migrants who have a visa and have permanent stay in the UK, 30% still reported feeling scared of seeking healthcare.
The reported lack of trust in the NHS amongst asylum seekers exists amid a legal and political environment in the UK that has become "hostile" towards asylum seekers. The so-called "hostile environment" is a policy agenda that was launched by the then Home Secretary Theresa May in 2012, and it was created with the intention of deterring undocumented people from entering and staying in the UK. There is also concern voiced by the JCW that a digitised vaccine passport system will discriminate against asylum seekers and undocumented people, by "permanently" segregating them from public life.
Outbreaks of Covid-19 have been rife at immigration removal centers in the UK, and in January this year 73 organisations including Amnesty International and Liberty sent a letter to Home Secretary Priti Patel, to call for the immediate release of all in detention due to unsafe living conditions.
Specifically, asylum seekers staying at the Napier Barracks, an ex- army camp in the south of England, have witnessed suicide attempts, amid living conditions that have been deemed "filthy", and "unsuitable" in a report by Her Majesty's Inspectorate of Prisons (HMIP). In January, over 120 of the total 400 asylum seekers living in the Napier barracks caught Covid-19 while single dormitories housed up to 28 people at a time.
Turkey
Turkey's population: 85,071,693 | Confirmed Covid-19 cases: 4,025,557 | Total deaths: 34,734
Turkey hosts the largest numbers of refugees, with an estimate of 3,6 million people currently home in the country, while many remain unrecognized by the country's government. Health Minister Fahrettin Koca said that a total of 100 million doses of Covid-19 vaccines are expected to arrive in Turkey by the end of May 2021. To date, over 8 million people have received their first doses of a vaccine against Covid-19, while second doses have been given to more than 5.4 million.
In early 2021, Turkey launched its nationwide campaign to vaccinate everyone including displaced people. Some Syrian refugees have already been vaccinated in the process, the UNHCR reports.
Among them, Syrian Doctor Mustafa Lölük (52), who fled attacks in Aleppo, Syria in January of 2014. Together with his family, he lives in the Turkish city Gaziantep, working as a healthcare professional. "[In early 2021] when the vaccine hadn't yet arrived", Doctor Mustafa Lölük tells the UNHCR, "five of my colleagues and I organized an online seminar and in line with the official statements and we informed Syrians on vaccines and vaccination process Turkish is planning". Together with his colleagues and support from partners, the team was able to reach "Syrians in the city through communication networks and addressed around 50 people. We posted the session on social media, eventually reaching around one million Syrians [in Turkey]".
Jordan
Jordan's population: 10,284,789 | Confirmed Covid-19 cases: 676,175 | Total deaths: 7,987
While many western nations have the funds to purchase more vaccines and distribute those accordingly, it is Jordan, a small country in the Middle East, with a large population of people in displacement, that has been a leading example in the global effort to combat Covid-19.
According to the United Nations Refugee Agency (UNHCR), more than 40 countries have publicly stated that they will include people in displacement in their national vaccination programs and about 20 countries have already begun to vaccinate refugees. Jordan is home to about 700,000 refugees. The country was one of the first ones to begin vaccinating its refugee population. Shabia Mantoo, a spokesperson from the UNHCR praised the country as the "gold standard" in regard to the inclusion of refugees, Devex reported.
Colombia
Colombia's population: 51,320,638 | Confirmed Covid-19 cases: 2,602,719 | Total deaths: 66,482 deaths
However, countries such as Colombia, with the second-largest refugee population after Turkey, are taking a different path.
Iván Duque Márquez, the Colombian President and member of the Democratic Centre Party, made it clear that Columbia's undocumented migrants from Venezuela will not be included in the country's vaccination programme. He argued that it is due to their legal status. The UNHCR reports that around 1.7 million refugees and migrants from Venezuela are home in Columbia.
This came to the concern of human rights organizations based in the country, supporting the nearly two million Venezuelan migrants. According to German NGO SOS Kinderdörfer Weltweit, there are about 983,000 Venezuelan migrants living undocumented.
"It's in the interest of refugees — this is a lifesaving intervention, having the vaccines, having treatment. But at the same time, it's in the country's interest to make sure that there's no one on their territory that is unprotected and exposed because that will then hamper progress made in combating the virus and stopping the pandemic," UNHCR spokesperson Shabia Mantoo told Devex. "No one is protected unless everyone is protected."
---
Every week we share stories from around the world in English. Follow us on Facebook, Twitter, LinkedIn, and Instagram to stay connected.
Support our work and independent journalism with a donation to Guiti News.