Just in
Desperation and Hope: The Story of The Moria Refugee Camp
On 8-9 September, after repeated discriminatory lockdown measures were imposed on the 13,000 inhabitants of Moria Refugee Camp and 35 inhabitants tested positive for COVID-19, five refugees were arrested by the authorities for setting the camp ablaze, leaving nothing behind but ashes. Guiti News investigates the story of desperation and hope that led up to this pivotal moment […]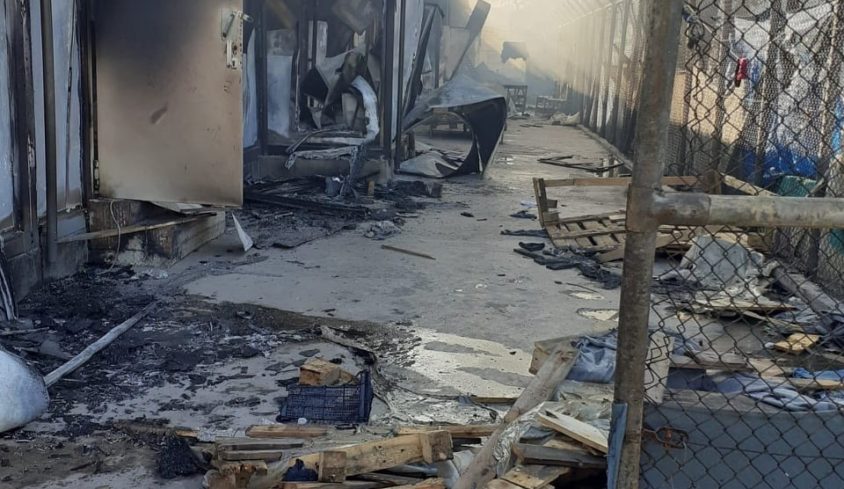 On 8-9 September, after repeated discriminatory lockdown measures were imposed on the 13,000 inhabitants of Moria Refugee Camp and 35 inhabitants tested positive for COVID-19, five refugees were arrested by the authorities for setting the camp ablaze, leaving nothing behind but ashes. Guiti News investigates the story of desperation and hope that led up to this pivotal moment giving Europe a long-anticipated wake-up call. 
Guiti News is challenging the conversation surrounding migration. Guiti brings a unique perspective to these narratives: every piece is created in collaboration of European and exiled journalists and artists.
Text: Léa Gorius and Mana Shamshiri | Edits: Samantha Richmond | Pictures: Estelle Jean, Mohammad Reza, and Melis Omalar
---
The Moria Refugee Camp, based on the island of Lesbos in Greece, was home to approximately 13,000 predominantly Afghan refugees, making it one of the largest refugee camps in Europe. Families and individuals in Moria Refugee Camp have been living there for years whilst waiting for responses to their asylum claims in cramped, squalid, uninhabitable conditions with little hope offered by Greek authorities and the EU for a sustainable future. The confinement measures imposed by the coronavirus global health pandemic only heightened tensions between authorities and inhabitants of the camp as they repeatedly refused to lift the confinement measures imposed on the camp since its implementation on 17 March 2020 with only refugees requiring urgent medical attention being granted permission to leave. This was despite the fact that confinement measures imposed throughout the rest of the country were lifted on 3 May 2020. On 8 September 2020, after news of 35 inhabitants of the camp testing positive for COVID-19, five refugees were arrested by the authorities, suspected of having set the camp ablaze and burning it down to nothing but ashes.
As a response to the 'Refugee Crisis' that rocked the globe in 2015, Moria Refugee Camp was built as a stopover for predominantly Syrian refugees en route to Northern Europe by the Greek authorities. It was therefore only built to accommodate approximately 3000 refugees. When Greek authorities initially agreed to provide safe accommodation to refugees, they allowed refugees to cross through the mainland. Now, boats of refugees are being turned away or housed in tents in refugee camps like Moria indefinitely. Since its establishment, Moria Refugee Camp accommodated up to 13,000 refugees and has accommodated 20,000 at its peak. The excessive overcrowdedness has rendered the camp practically uninhabitable. Refugees are unable to access sufficient food, clean water, and functioning sanitary facilities. With a documented rise in suicide rates due to the inhumane living conditions in Moria Refugee Camp, the deterioration of the mental well-being of its inhabitants has become a serious concern for refugee activists and not-for-profit organisations as they symbolise Europe's treatment of refugees and their unwanted presence.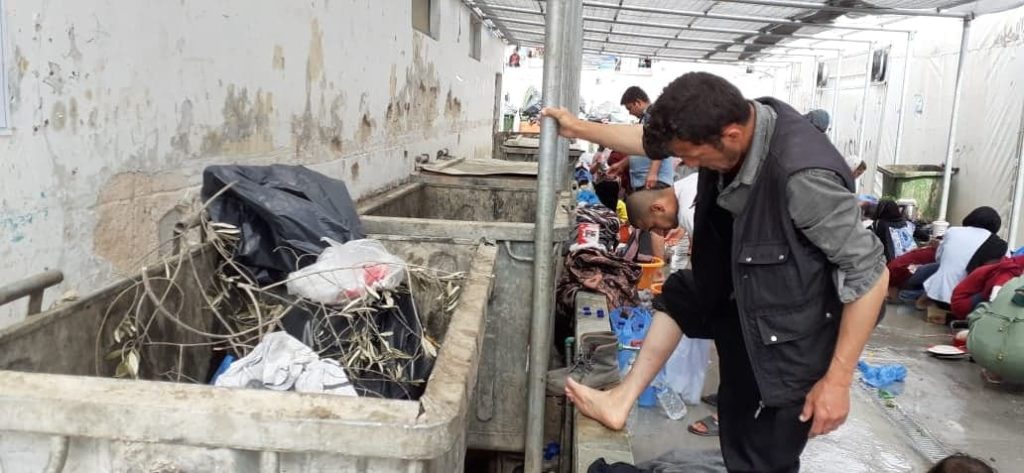 Prior to the fire that destroyed the Moria Refugee Camp, Guiti News spoke to Estelle Jean, founder of Yoga and Sports for Refugees Association, about how their sports-related activities, which provided a much-needed escape, 'freedom', from the harsh realities of life in Moria Refugee Camp as well as serving as a positive buffer to the mental well-being of the refugees in Moria Refugee Camp.
'Freedom' and Mental Well-Being through Sport
Before the outbreak of the coronavirus global health pandemic, the Yoga and Sports for Refugees Association offered refugees at Moria Refugee Camp a variety of sports lessons and self-defence classes per week. These either took place in the Association's own gymnasium, off the premises of the camp or on the camp's premises itself. Some of the activities they offered included swimming (for which they used the nearby beach), yoga, dance, Zumba, general fitness training, karate, and body-building. Through these sport-related activities, Yoga and Sports for Refugees Association has been looking after the physical and mental well-being of close to 400 refugees at Moria Refugee Camp by keeping their minds and bodies active every day.
The implementation of the excessively stringent confinement measures as a response to contain the spread of the coronavirus since March 2020 resulted in the closure of all sport-related activities. Refugees were not allowed to leave Moria Refugee Camp, and members of the Yoga and Sports for Refugees Association were not allowed onto the premises. But this did not stop Estelle; she was determined to continue the work of the Yoga and Sports for Refugees Association and to do so, she enlisted the help of trained sports teachers who themselves were refugees living in Moria Refugee Camp.
Using WhatsApp, Estelle and her team continued to communicate with the team of sports teachers that they had entrusted to continue the work of the Association. And until mid-May 2020, inhabitants of Moria Refugee Camp could access Zumba classes developed by the Association via YouTube. Additionally, Estelle and her team developed activity 'challenges' to encourage the refugees to continue to look after their physical and mental well-being by continuing to stay active despite the intolerable confinement measures. 'Winners' of these 'challenges' each received a bouquet of flowers as a way of reminding them that the Yoga and Sports for Refugees Association had not abandoned them.
Despite these efforts, the inhabitants at Moria Refugee Camp eventually grew tired of waiting. "Every day people ask when the gym will reopen", explained Estelle in August 2020, which underlines just how important the Association's activities are to refugees in looking after their physical and mental well-being.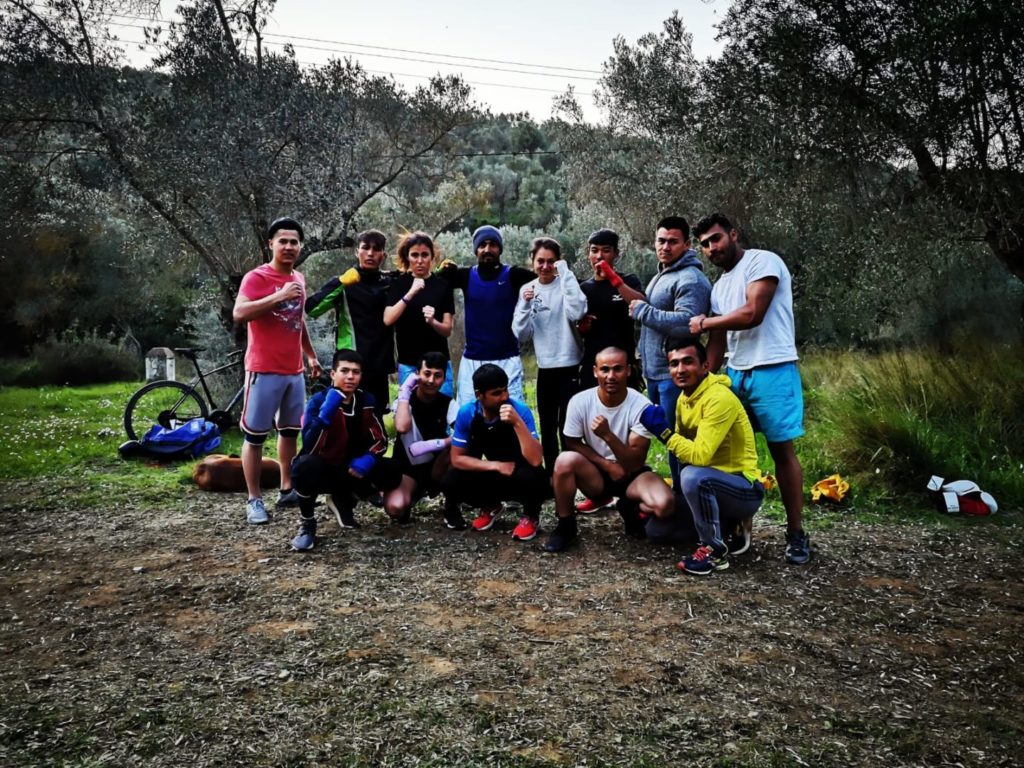 A second Moria?
The intentional fire that ravaged the Moria Refugee Camp was a public cry for help from refugees, who's unspeakable living standards proved too much to bear. As reported by the Greek state television channel ERT, local Chief Firefighter Konstantinos Theofilopoulos recounted how several refugees actively hindered firefighters' efforts to contain the fire and save the camp. A deafening loud statement from the former inhabitants of Moria Refugee Camp: 'no more'.
Since the fire, Guiti News again spoke with Estelle Jean. According to Estelle, thousands of refugees sought refuge in the nearby mountains and forests, while others camped along the roadside; the total destruction of Moria Refugee Camp left people wandering aimlessly: "People were desperate and crying for help," explained Estelle. And "all the roads were blocked [by authorities]… making it impossible for associations to mobilise and do our job".
After several days with no place to sleep and no access to food and clean water, Greek authorities finally began to relocate the refugees of Moria Refugee Camp to another refugee camp, Kara Tepe, also located on the island of Lesbos. In an official public statement to the nation, Greek Prime Minister Kyriakos Mitsotakis referred to the burning of the Moria Refugee Camp as a "tragedy" as well as a "warning bell to all to become sensitized…[as] Europe cannot afford a second failure on the migration issue." And yet, contrary to this statement, we are already starting to see a similar situation arise at Kara Tepe. According to a local refugee charity, Refugee Support Aegean (RSA), the Kara Tepe Refugee Camp (much like Moria Refugee Camp) does not live up to the standard definition of 'dignified living' as defined by both Greek and international law. As 24-year-old Zaynab, an Afghan woman, told Al Jazeera: "there is no water, no toilet, no food… the smell is very bad because people go to the toilet on the floor in front of my tent."
The deplorable situation that the former inhabitants of Moria Refugee Camp now find themselves in have mobilised them to take action and be heard by the international community. On 13 September 2020, women and children marched, brandishing posters screaming with slogans such as: "we want to get out of hell", "Europe help us" and "we don't go to the new camp". Many fear for their safety and believe that the living conditions in Kara Tepe are simply a continuation of the neglect that they experienced in Moria Refugee Camp. And for those who once enjoyed the sports-related activities offered by the Yoga and Sports for Refugees Association, their experience of loss has been even greater. Estelle and her team are trying to find solutions, particularly focusing on reestablishing their Association's activities at Kara Tepe in order to continue supporting the physical and mental well-being of the refugees, especially at this most vulnerable time. Despite having been restricted by the Greek authorities for the past few weeks, they are slowly beginning to get back on their feet again, with some sports training activities taking place informally.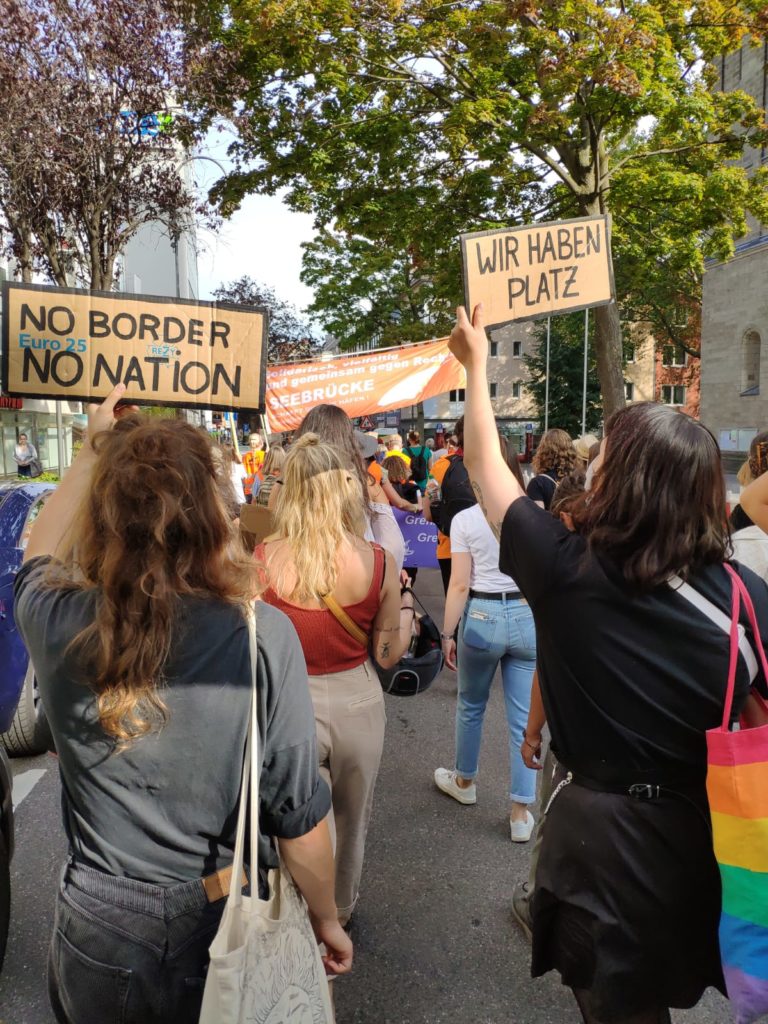 Beyond Moria and Kara Tepe
The tragedy that has occurred and continues to befall the lives of refugees in Greece has shone a giant spotlight on the grand failure of the EU to protect refugees, whose only reason for seeking refuge in Europe is for their safety. In a conversation with Guiti News, Celine Schmitt, UNHCR spokesperson for France, says that concrete solutions are being implemented; refugees currently residing in Greece are being transferred and relocated to other European countries. She also reported that through various projects that have been put in place during the summer, 11 European countries have made a commitment to accommodate at least 1,600 refugees in their respective countries: "There is indeed a need for solidarity [and] European policy must support the countries which host the most refugees."
The much-anticipated European Migration Pact was finalised last week, 23 September 2020. As part of the Pact, EU leaders of the 27 EU member states introduced policies of compulsory pre-entry screenings involving health, identity and security checks, and accelerated border procedures for faster responses to asylum claims to prevent overcrowding. The 27 EU member states have also agreed to provide each other with operational support, taking in refugees, sponsoring returns, and providing financial assistance, to mention a few. According to Ylva Johansson, the EU Commissioner for Home Affairs, there will be "no more Morias".
However, the Pact has been met with criticism by human rights organisations. Amnesty International has denounced the EU's actions, with its EU advocacy director, Eve Geddie, exclaiming that "while the commitment to monitor abuses at the borders is welcome, this does not make up for the fact that the Pact makes detention the norm and relies on deterrence, containment in camps, and cooperation with abusive governments." Whether enough will be done to alleviate the suffering of the daily lived realities of those in Kara Tepe Refugee Camp and other similar camps is yet to be seen.
Every week we share stories from around the world in English. Follow us on Facebook, Twitter, LinkedIn, and Instagram to stay connected.
Support our work and independent journalism with a donation to Guiti News.