Covid-19 Misinformation: Scapegoating Migrants and Minorities
Across Europe and the rest of the world, Covid-19 spread faster than authorities and officials expected and with it, conspiracy theories and false claims. While there was initially hope to use the crisis as a community-building opportunity, the narrative public officials and politicians have pursued is clear: migrants and minorities are to blame.
Chancellor of Austria, Sebastian Kurz, falsely claimed that the virus was "dragged" back to the country by people with roots in the Balkan. In addition, former President Donald Trump made incorrect statements that blamed Black Lives Matter protesters for the rapid spread of Covid-19 in the US. Similar messages of Covid-19 misinformation surrounding migration found popularity in Germany, the UK, and Pakistan. In this piece, Guiti News detects and deconstructs false narratives, bringing instead facts and figures to the debate.
Guiti News is challenging the conversation surrounding migration. Guiti brings a unique perspective to these narratives: every piece is created in collaboration of European and exiled journalists and artists.
Text: Melis Omalar, Marco Marcelline and Mateeullah | Image: Photomontage
---
United States
BLM Protests falsely blamed for the high number of Covid-19 cases by former President Donald Trump
The US has over 26 million total confirmed cases of Covid-19 and 440,880 deaths. The country has been rocked by multiple waves of the virus which started early last year. While initially denying and playing down the severity of the virus in the early months of 2020, former President Trump changed his tune when millions protested anti-black racism in America after the murder of George Floyd by a police officer.
Throughout the summer of 2020, Donald Trump made false claims that linked a rise in cases among young Americans to the widespread Black Lives Matter demonstrations. The claims were routinely repeated by high-ranking Republican politicians and officials, including the mayor of Miami-Dade County, Carlos Gimenez, who said BLM protests "had a lot to do with" a fresh surge in cases in Miami. Researchers have consistently debunked these claims as having little if no evidence. A study from the National Bureau of Economic Research elaborates that an "increase" in people staying at home who did not attend protests, may have offset any decrease in social distancing observed by those participating in protests. This meant that there was "no significant community spread and no significant increase at all in overall cases at the population level."
However, researchers at Stanford University found that 18 Trump rallies held between June and September last year, which were attended by mask-free supporters, led to more than 30,000 cases as well as 700 deaths. Meanwhile, Trump himself defended anti-lockdown protestors, saying that they were all six feet apart, when in fact they were not.
President Trump has made a litany of further false claims about Covid-19 that have been roundly debunked by health experts, such as that Mexico is to blame for the virus surging in south-western states.
Pakistan
Covid-19 falsely believed to be a hoax in petition filed to the Lahore High Court
In Pakistan, conspiracy theories about the Covid-19 are spreading much more rapidly than the virus itself. There have been over 546,400 Covid-19 and 11,680 deaths in Pakistan so far. In 2020, more than 67,000 cases were reported in Khyber Pakhtunkhwa with more than 2,000 deaths total.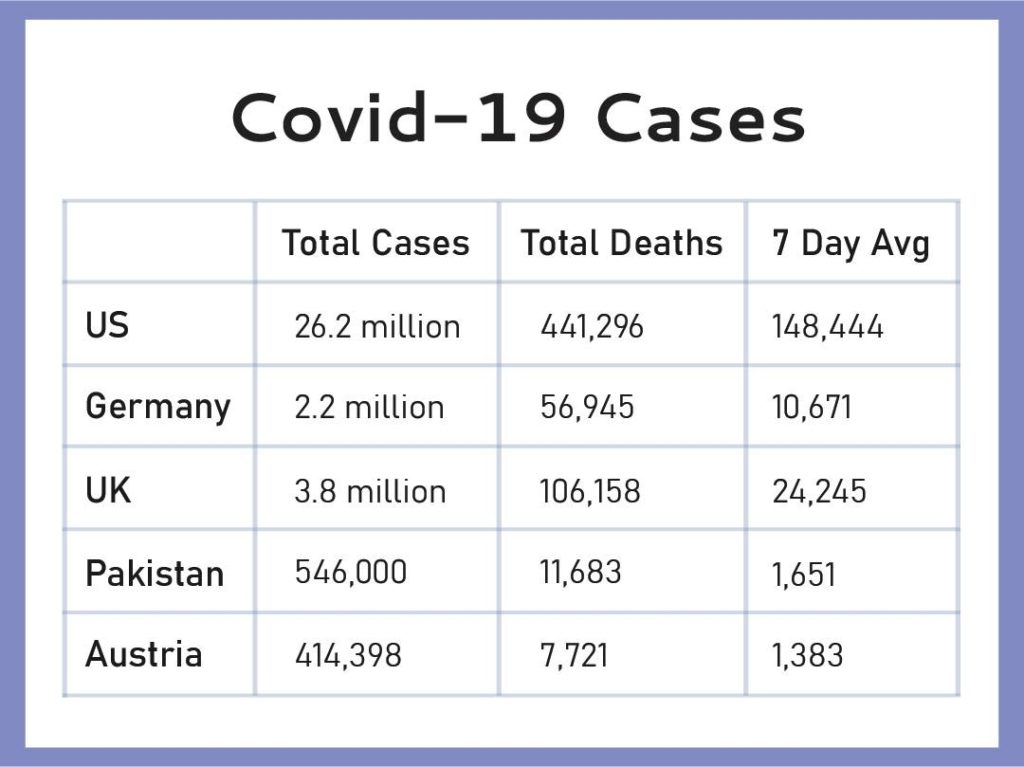 Azhar Abbas, an air-conditioner mechanic, contended before the Lahore High Court that Covid-19 is part of a global conspiracy to change the world financially. Chief Justice Lahore High Court Muhammad Qasim Khan asked the petitioner for medical reports and evidence to prove his case to which the petitioner remained silent. The court imposed a fine of Rs 2 lakh (around 1150 Euros) for the false filing of the petition.
The problem is most acute in rural Khyber Pakhtunkhwa, where extremists have spread other conspiracy theories, such as a false theory surrounding the use of the polio vaccine to sterilise Muslims. But Khan, a Pakistani journalist, says you can't hold people accountable for their beliefs.
Government officials and doctors we have reached out to are expressing their concerns about the impact of such strong ideologies within social and political spheres. This includes Zain Raza who works on the government's response to Covid-19 in the northern province of Khyber Pakhtunkhwa. He argues that people who "believe in conspiracy theories are influencing his work and the world negatively because they are not taking the disease seriously."
United Kingdom
Ethnic minorities repeatedly blamed by right-wing politicians for Covid-19 spread
The UK has exceeded a total of 100,000 deaths, with its death rate averaging 16.5 deaths per million people between 10 – 17 January 2021 – the highest in the world. Priti Patel, the Home Secretary, alleged that the disproportionately high death toll was partly a result of Britain having a large BAME population that was "more susceptible to coronavirus."
Politicians from the governing Conservative Party have consistently linked high Covid-19 deaths to either minority ethnic groups not adhering to restrictions, or because of health comorbidities making them more likely to die.
For example, a Conservative Member of Parliament (MP) was widely condemned in July 2020 for telling a radio station that "BAME communities are not taking [Covid-19] seriously enough." The MP, Craig Whittaker, pinpointed "Muslims", "immigrants", and "Asians" in particular.
In August 2020, Bob Allen, a Conservative councillor, was suspended after making a Facebook post that falsely blamed the rise in cases in the Manchester area on "illegal immigrants, the BAME community, and the morons who never follow the rules" as well as "the Chinese."
The Health Secretary, Matt Hancock, said a government led report that studied the high death toll amongst BAME communities, showed that "being black or from a minority ethnic background is a major risk factor."
Anti-racism activists have argued that the Government has ignored the reality of structural oppression that ethnic minorities in the UK face. They argue that the reasons for the high death rate amongst immigrant, and BAME communities are the fact that many work in frontline and high-exposure jobs, live in deprived and polluted areas that affects lung health, as well as the fact that they are more likely to live in poor quality and crowded housing. Researchers have corroborated that these are the factors that place Black, Asian and ethnic minorities at a greater risk of dying from the virus – and that ethnicity itself is not one of them.
Germany
Vaccine Misinformation in Telegram groups, Flyers, and Facebook posts
In Germany, fake news and false narratives surrounding Covid-19 initially spread on social platforms such as Facebook and Twitter before finding a base in the popular messaging app Telegram. With a recently extended lockdown and a current 7-day average of 11,733 cases, frustrations are fueled by a growing resentment with political leadership that has greatly benefited conspiracy theorists.
In particular, misinformation spread in Telegram groups with hundreds of large groups host over 50,000 members. Here, people against vaccination and the use of masks began establishing themselves, creating flyers and organising demonstrations in Leipzig, Berlin, and other cities across Germany. Mixed in with Covid-19 denial, some used the protests as a place to spread anti-Semitism and to openly support the ideology of neo-Nazis with strong anti-migrant messaging. This included banners with anti-Semitic conspiracy theories relating to the Covid-19 vaccine.
In an effort to debunk and direct users to reliable sources, the German Federal Ministry of Health (Bundesministerium für Gesundheit) opened up its own Telegram channel with new information and insights shared every day in German, English, Russian, Turkish and other languages. When downloading Telegram in Germany, the app now links to the Federal Ministry of Health's own group who directly addresses the questions and claims made by Covid-19 deniers and suggests the use of official sources for news surrounding Covid-19.
The concern surrounding the spread of misinformation is focused on the type of online communities with trustworthy sounding names and engaging content, often identifying themselves as "Querdenker" (lateral thinkers). Among them "Ärzte für Aufklärung" (Doctors for Enlightenment), who claim both online and in their flyers that "minimal contamination is best achieved when no mask is worn at all and that wearing a mask during surgery is a standard procedure that could be avoided."
Similarly, the "Netzwerk Impfentscheid" (Network Vaccine decision) fuels the spread of fake news with flyers and Facebook posts. Their convincingly designed material is not just handed out at anti-mask demonstrations, but in train stations and even delivered to one's door. "The vaccine hasn't been tested yet", the flyer claims falsely and instead insists on printing misleading narratives of the vaccine development process.
The comment under their most recent post reads: "For some incomprehensible reason, I received a flyer from you. I support the development and delivery of the vaccine. On the contrary, I very much regret how unconstructively you deal with the subject."
Austria
"People with roots in the Balkans dragged the virus to Austria", claims Chancellor of Austria
Similar to other countries, Austria is struggling with a high number of Covid-19 cases and currently has a 7-day average of 1,490 new cases. During a press conference and later again in a TV interview in early December of last year, Chancellor Sebastian Kurz blamed migrants from the Western Balkans for the widespread. "Especially people with roots in the Balkans and Turkey dragged the virus to Austria", Kurz claimed falsely.
Statistics from the Agency for Health and Food Safety (Ages) indicate that there were two summer weeks in which a third of Covid-19 cases were due to returnees from the Balkans. However, the numbers say nothing about the nationality of the infected. Due to the Austrian government's travel warning for Croatia, many that were on holiday, both Austrians and migrants, returned to back to Austria during this time.
Criticism of Kurz's choice of words came not only from social media but also from the opposition. The communication of the travel restrictions and the implications was "one-sided and characterised by a lack of sensitivity", stresses Party Leader of the Greens and coalition partner Werner Kogler. "In particular", Kogler emphasizes that these misleading claims have hurt "the many women and men who have been fully committed to us (in Austria) for many months in nursing homes, hospitals – including the intensive care units – and in other important areas."
It is these people that Chancellor Kurz turns into scapegoats by voicing these false claims repeatedly. When in fact, many migrants got infected because they are essential workers, including cleaning and caring for the infected and underpaid and overworked Austrian hospitals, not because they were visiting relatives in the summer.
---
Every week we share stories from around the world in English. Follow us on Facebook, Twitter, LinkedIn, and Instagram to stay connected.
Support our work and independent journalism with a donation to Guiti News.