Here and there
Floods in Pakistan: when a poor country pays the price of climate change
33 million people in Pakistan, in south asian, have been affected by torrential monsoon rains and flooding. Close to 1400 people have lost their lives. The country that has one of the lowest gas emissions in the world is being hit the hardest by climate change.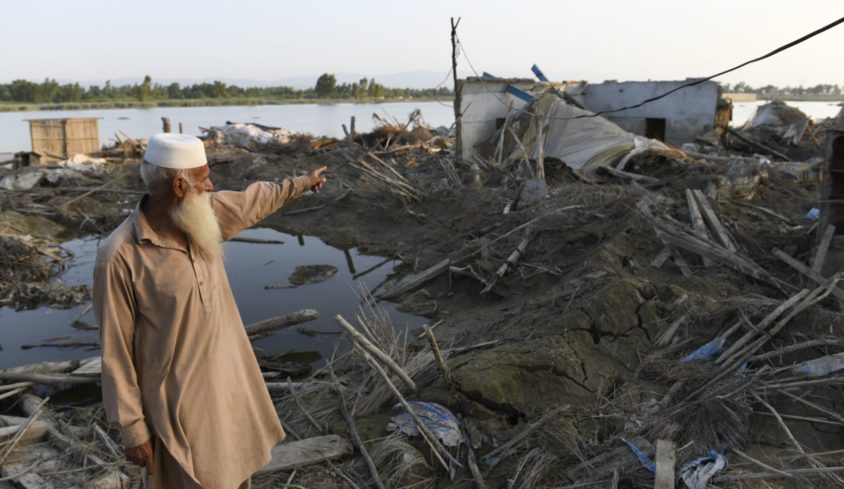 « Climate change is here and now, people [in Pakistan] are scrambling to save their lives and belongings », said Matt Saltmarsh, head of news and media for the UN Refugee Agency on the climate disaster that is hitting Pakistan.
According to the United Nations High Commissioner for Refugees (UNHCR), 33 million people have been affected by the torrential monsoon rains and flooding in Pakistan. Close to 1400 people have lost their lives.
« Pakistan and other developing countries are paying a horrible price for the intransigence of large [greenhouse gas] emitters who continue to rely on fossil fuels,» said The United Nations' secretary general, António Guterres in his visit to the country last Friday, September the ninth.
Women in the forefront of climate disasters
In Pakistan, women are the ones being hit the hardest by the climate disaster, more specifically pregnant women. The Guardian reported that out of 650,000 pregnant women who have been directly affected in flood-hit areas, 73,000 of them will be delivering their babies in September. The catastrophe includes the destruction of many health facilities, reports the United Nations International Children's Emergency Fund ( UNICEF).
Not only Pakistani people's lives have been ruined, but also the lives of those who sought refuge in this country. Pakistanis are generous people. With a population of approximately 221 million people, the country hosts 1.3 million Afghan refugees, according to the United Nation. 421,000 Afghan refugees live in the worst affected districts by these monsoon rains.
History of one of the most disaster-prone countries
In 2010, Pakistan witnessed its deadliest climate disaster to date, when more than 2,000 people lost their lives and millions of others lost their homes. The 2021 Global Climate Risk Index reports that Pakistan is among the most disaster-prone countries. The report estimates that Pakistan lost 18 billion dollars in damages due to disasters during the past decade.
« We have contributed [to] less than 1% to [greenhouse gas] emissions. […] There is so much loss and damage with so little reparations to countries that contributed so little to the world's carbon footprint » said Sherry Rehman, Pakistan climate change minister to the Guardian.
Risk of mass starvation in Africa
What is happening in Pakistan, is happening in other countries, especially in Africa, just in a different way. Climate change can strike as monsoon rains that last weeks or drought that lasts for years, that kill thousands of people facing famine and force millions of others to migrate.
Four years of drought, which was never seen in 40 years in the Horn of Africa, have left 22 million people in Ethiopia, Kenya and Somalia at risk of starvation, according to the United Nations' food programme. These are countries that have low carbon footprint yet their children, women and men are at the forefront of climate change caused by richer countries located far away.  
African countries must devote at least 4% of their GDP (Gross Domestic Product) to combat climate change, according to the latest report; a country like South Sudan, which is the second poorest country in the world, must devote 3.1% of its GDP, which corresponds to more than 376 million euros, to combat climate change.
« It is going to be imperative that in COP 27 in Egypt that there are mecanismes to support less wealthy countries facing climate change », says Matt Saltmarsh, from the UN Refugee Agency. But he doesn't have high hopes given how small the results usually are following these types of events.