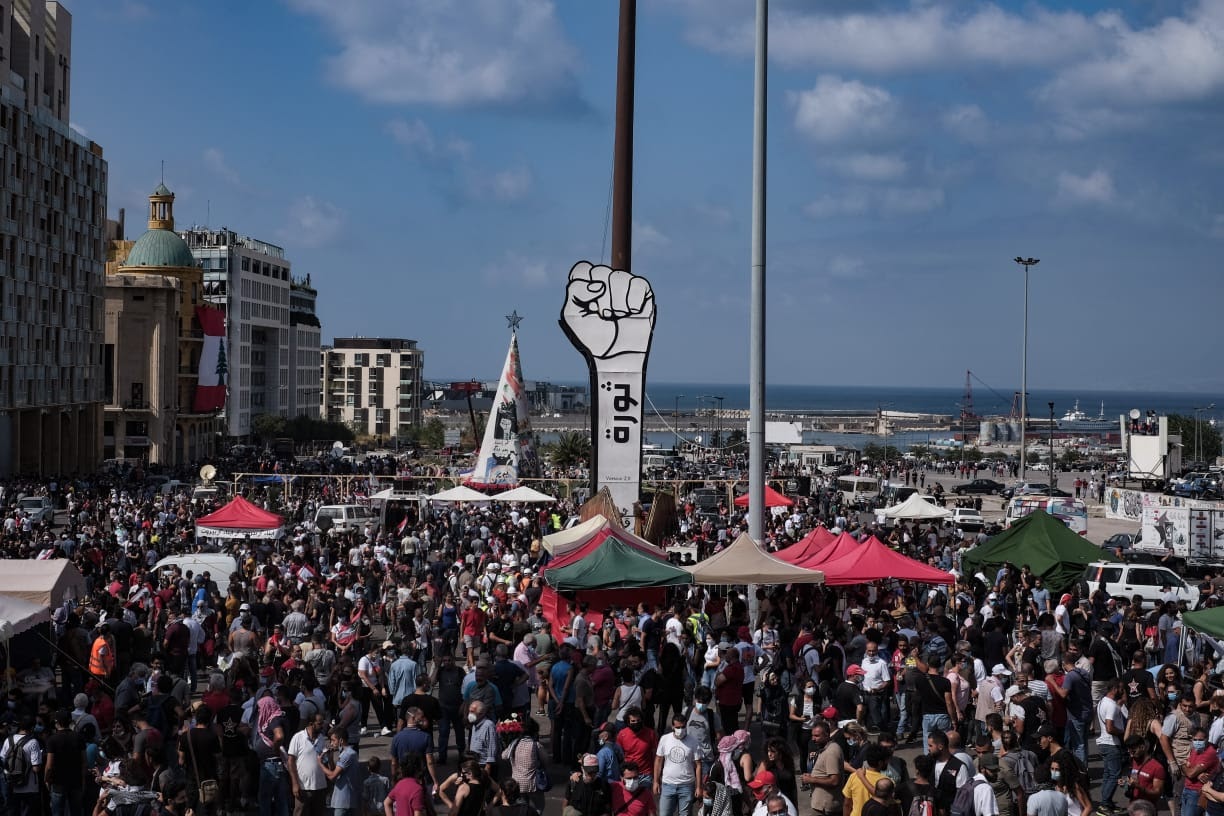 Lebanese voices | 1
Since the blast on August 4th in Beirut, it seems like the whole world has been turned upside down in the Land of Cedars. For the first few days after, "Beirut" was on everybody's lips, attracting considerable public and media attention globally. But the tragedy that occurred has now disappeared as a consequence of the continuous flow of information and input. Yet the anger of Lebanese people who are at the heart of the demonstrations, which started in November 2019, known as the "thawra" or revolution, has not eased. In fact, it is the exact opposite. On Guiti News, we will give a voice to those who have witnessed the destruction of the city and want to call attention to not only this disaster but also to the political situation in Lebanon, their desires, and hopes for the future.
Guiti News is challenging the conversation surrounding migration. Guiti brings a unique perspective to these narratives: every piece is created in collaboration of European and exiled journalists and artists.
Text: Cécile Massin and Hussein Dirani | Picture: João Sousa
---
To Beirut, I send greetings from my heart to Beirut
لِبَيرُوت، مِنْ قََلْبِي سَلاَمٌ لِبَيْرُوت
In one of her songs, Fairouz, one of the most famous Lebanese singers, declares her love for the city where she was born and raised, singing: to Beirut, I send a greeting from my heart to Beirut. In this song, Fairouz invites us to remember how much the city has been damaged throughout the last decades, especially during what we usually call "the Lebanese civil war" (1975-1990). But also how strong and beautiful the city remains to her and all Lebanese people.
Three decades after the end of the civil war, Beirut is still bleeding. On August 4th, 2020, two large, devastating explosions shook the Lebanese capital. This caused the death of at least 200 people, injured more than 5.000 people, and left another 300.000 homeless. The explosion that day in the Lebanese port, the so-called Gate of the Middle East, won't ever be forgotten, especially by those who were in Beirut in that moment. Among them were Lebanese people, of course, but also Syrian and Palestinian citizens, migrant workers, and other foreigners living and studying in the city.
Episode 1: Al Mahdi
Al Mahdi is Syrian. Fleeing the war that was raging in his homeland since 2011, he arrived in Lebanon in 2017 at the age of 27. When Al Mahdi left Syria, he left many things behind. "I was happy there. I was studying to become a theater director. I have two BA degrees, one of them in Law from Damascus University and the other one in Theatrical Studies from the High Institute for Dramatic Arts, in Syria. Before leaving, I had even started to study the methods of education but I stopped because I had to leave the country, I could not stay there anymore."
Once in Lebanon, finding a job was really not easy. Like many other Syrians in the Lebanese capital, he started working in a bar in Mar Mikhael, one of the neighborhoods closest to the port where young people used to gather at night to party. "I had been working there for a while, it was great. Many people were passing by this place, you could always meet interesting people. But I quit a few days before the explosion happened. Because of the crisis, they were paying me only 60 dollars a month, I could not even afford living."
The "crisis" Al Mahdi is talking about is now known as the thawra. Since October 2019, Lebanese people have gathered to demonstrate against the ruling class.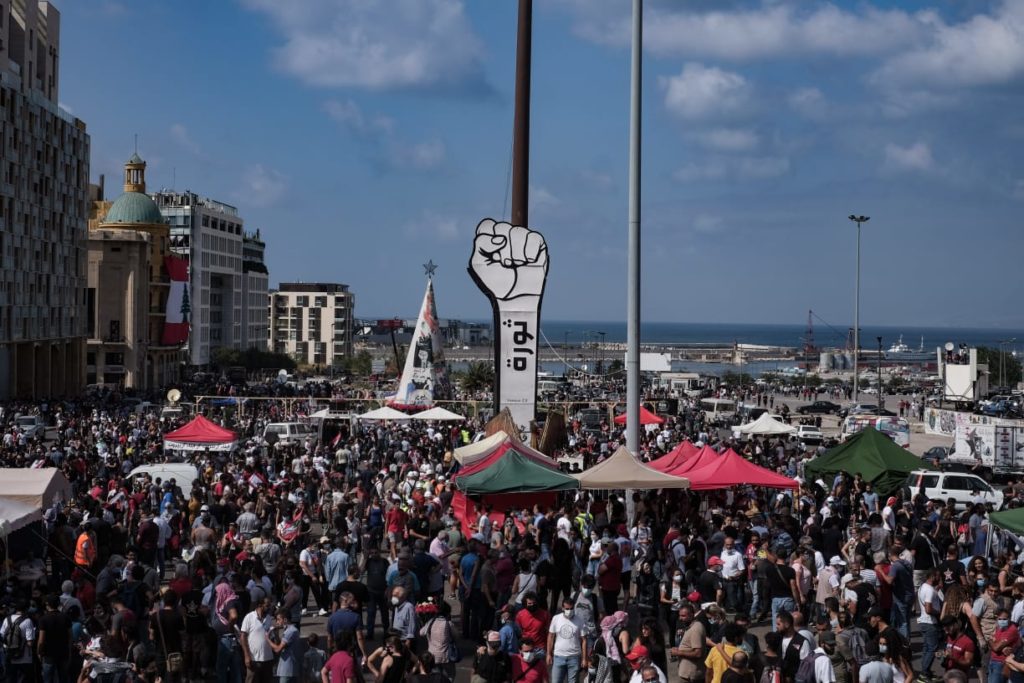 Since the demonstrations started, many people have lost their job, and the whole economy collapsed. Like many others, Al Mahdi is now unemployed with no perspective of finding a job any time soon. While Lebanon was already bled dry, the explosion happened at the worst time, pushing the country in a bottomless abyss.
"When the blast happened, I thought that I could never rebuild a new life for myself in Lebanon"
To Al Mahdi, the explosion completely shattered his hopes in Lebanon. "Five days before the explosion, I had made a big decision. I had quit my job from the bar where I was working, and I had decided that this would be a new beginning for me in Lebanon. Its always been really hard here because I don't have any legal documents or passport since General Security – a Lebanese intelligence agency supposed to ensure national security public order – has them and refuses to give them back to me. I had always tried to leave the country but this time, I wanted it to change and I was ready to rebuild my identity here. So when the explosion happened, I literally thought that everything was just pushing me out of Lebanon and that no matter how hard I was trying, as a Syrian in Lebanon but also as a human and as an artist, I could never rebuild a new life for myself in this country."
For everyone in Beirut that day, the blast has been an enormous shock. No one could have prepared for this to happen nor for it to be so violent. Even almost two months after the catastrophe, it is still hard to describe what exactly happened. Particularly for those who were near the port when the explosion occurred…
"I was at my house in Geitawi when it happened, one of the areas closest to the explosion. I have had a lot of experiences with explosions and bombings in Syria so when the first explosion happened and my buildings started to swing, I immediately tried to find a safe zone to hide in, so I ran to my corridor. Then, the second explosion happened… It was the most terrible one, I can not even describe it. All the buildings started to fall apart, I really thought I was going to die. It was terrible to hear all the people screaming but I think that the worst part was the complete silence after the explosion."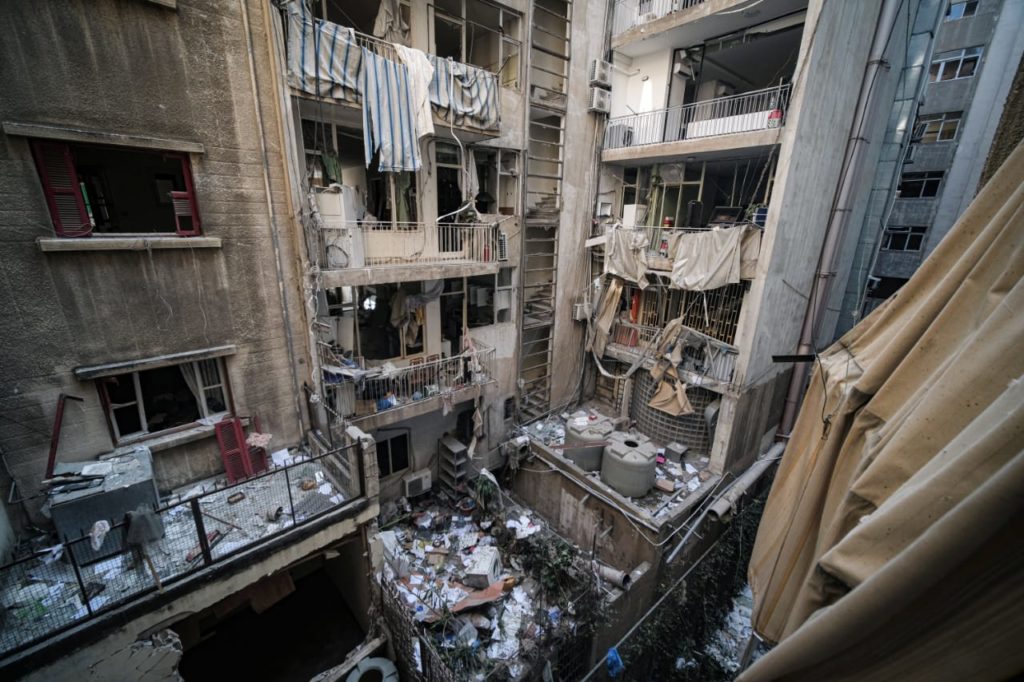 Luckily, Al Mahdi could escape from his buildings and reach the streets. What he witnessed there was terrifying: blood and broken glasses everywhere, people crying and asking for help. From what he remembers, everyone was asking themselves the same questions: Where are we right now? Is it war? Is it an explosion? What is going to happen for us? "No one knew what to answer to these questions and I could not do anything but remain silent. I was in complete shock, unable to say anything." When he finally came back to his senses, Al Mahdi called his family in Syria to tell them that he was okay and then started helping people around him. "At that moment, I was only focusing on helping people. You can not imagine how much blood I saw that day. Then, for two or three hours, I was not thinking, just helping the people to take the glasses out of their bodies… and tell them how to get to the hospital. That is what I did…"
Since the explosion, Al Mahdi has continued to help people in his neighborhood. Every morning, he goes out, helps clean and rebuild the houses of the inhabitants of Geitawi. With a few of his European friends, he tries to gather money and sends it directly to Beirut citizens. "My friends do not really trust NGOs and even less the Lebanese government. So they try to gather money on their own and send money directly to the people through Western Union or something like that."
When he is not helping, he is staying at home. He and his flatmate have been taking shifts so that there is always someone at home. "There are no windows and no doors anymore, so we need to make sure that there is always somebody so that we can protect our furniture. I still can not comprehend everything that happened. I can only say that I hope that no one on the earth will ever have his house look like ours right now."
After the shock, the anger
The demonstrations which began in November have started again after the explosion. At the beginning of the thawra, Al Mahdi was not going to the protests often because he thought that it was a national cause in which he did not really have the legitimacy to be included. As a Syrian, he was also scared to be arrested by the regime. "Because of everything I have been through in Syria, I know how the soldiers, the army, and this kind of regime act. If they had arrested me at that time, they would have said that it is not my revolution, that it is the Lebanese people's one, and that I am just a Syrian spy. I went to the protests a few times in October but only as a photographer to document what was happening there. That is it."
After the explosion, the anger took precedence over the fear. "On the first day of the demonstrations after the explosion, I immediately thought that I had to be part of it," he shared. "I went there as a human, not as a Syrian because I do not believe in nationalities. I just thought that something that I consider completely unfair happened to this lovely country. And as a guest in this city, Beirut, which hosted me for three years and gave me a lot of love, I felt a responsibility to say no and express my feelings about what had happened."
Going out in the streets to demonstrate turned out to be even more dangerous and violent than what Al Mahdi could have expected. Being on the front line of the demonstration, he got one robber's bullet in his right leg and another bullet between his chest and his left leg.
"I was only standing in front of the soldier's face, shouting slogans, but they sent me those bullets. Many people were injured that day, so we tried to go to the Red Cross. After that, I felt so tired that I could not even stand on my legs. One of my friends brought me back to my house with her motorcycle," he explained.
Now, Al Mahdi feels physically better but psychologically, the blast has left many aftereffects. "Psychologically, I'm not okay at all, how could I?" he wonders. "During the first three days after the explosion, I was very panicked and frightened all the time. One night, I got really scared and I tried to hide in the same basement where I had hidden myself during the explosion… In the last ten days, I kept on dreaming about explosions. A few nights ago, I got so scared that I decided to sleep under my desk because I thought that another explosion could happen any time and that I would be safer there. Until now, if I hear any motorbike or any car driving fast around my house, I feel scared. Sometimes, I put myself under the desk or anywhere I can hide myself". Like many others who were in Beirut when the explosion happened, Al Mahdi is still trying to recover from the trauma caused by the blast.
What does the future hold?
Since the explosion happened on August 4th, many things have changed in Beirut. The government declared a state of emergency. For Al Mahdi and all Syrians living in Lebanon without legal documents, the situation is getting more difficult each day. In the streets, the soldiers are everywhere, and Al Mahdi does not feel safe to go out of his house anymore. "Because of the state of emergency, I feel really scared. Even to get food, I order most of the time because I am too scared to see a soldier outside. All the memories from Syria and the shitty soldiers in Syria come to my mind all the time. I can not meet any soldier anymore, so I just stay in my house like a prisoner."
What makes Al Mahdi particularly terrified is that, in Lebanon, some political parties such as Hezbollah, a Shia political party, do have weapons. When he arrived in Lebanon in 2017, Al Mahdi got arrested by some of Hezbollah's militiamen in Dahieh who interrogated him for several hours. "They were asking me about what I was doing here in Lebanon, what I would do here and all of this stuff," he explained. "Fortunately, they know a friend of a friend of mine, so they released me. But now, they have all the information about me, so I feel more and more scared. I am scared of everything. I think of everything that I have done in my life that is against their ideology…"
Despite the explosion and the current political situation in Lebanon, Al Mahdi remains positive. "Until now, most of all, I feel both angry and happy. Happy – because I am helping the people around me. Angry – because of this regime. I have all these feelings inside me, but I try to help the people around me as much as I can. Even if I need psychological support for myself, I can support others because I have a lot of energy, and I stay positive, as always, facing these fascist and radical regimes by smiling. As an artist, that is what I can do for now."
It is not the first time that Al Mahdi has to face a regime trying to persecute him. "What is currently happening in Lebanon, we have actually been expecting it for a very long time, especially since 2011 and the beginning of the revolution in Syria. We have to deal with this kind of fascist regime, so I keep going. In these circumstances, me or anyone working in the cultural field, we always have to be okay and to support other people. That is our message in our life."
Every week we share stories from around the world in English. Follow us on Facebook, Twitter, LinkedIn, and Instagram to stay connected.
Support our work and independent journalism with a donation to Guiti News.