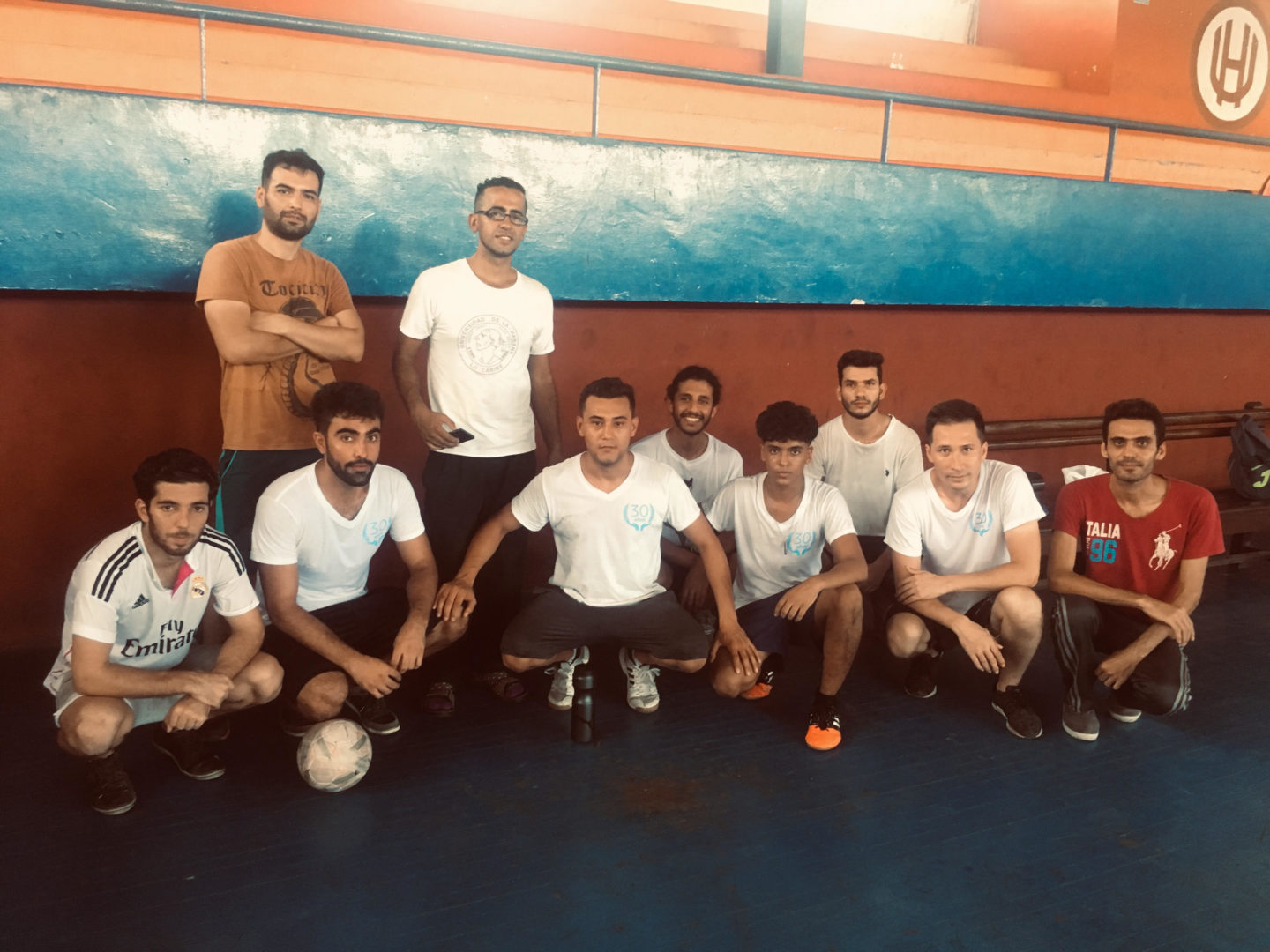 In Cuba, Futsal has become refugees' new refuge
A year ago, Guiti News reported on Afghan, Syrian and Eritrean refugees who had found a temporary home in Cuba. For them, the island was and still is not the El Dorado they hoped for. Since then, the situation on the Caribbean island has become even more challenging: Covid-19 has exacerbated restrictions and the island's inhabitants have become more isolated than ever.
Guiti News is challenging the conversation surrounding migration. Guiti brings a unique perspective to these narratives: every piece is created in a collaboration of European and exiled journalists.
Text and pictures: Alix Lafosse | Translation: Anne-Claire Bondon
---
It has been a year since we spoke with Mansour and other Syrian, Afghan and Eritrean refugees, and today, they are still waiting to hear back from the UNHCR to be resettled in different European countries. Resettlement, which is in the process of seeking asylum, is only implemented once refugee status is granted. In the case of Mansour, he is already recognised as a refugee under the Convention of 1951 since December 2015. After 3 years of waiting, he was promised to be resettled in France in 2018. Since then, he is still in Cuba.
In addition to the lack of administrative responses, the situation for him and other refugees is becoming more and more difficult. They are still not allowed to work due to being non-nationals, and thus the unique income they get is 58 CUC per month (1 CUC is equivalent to 1 American dollar) from the global organisation. However, Mansour clarifies: "with this money, we cannot buy anything".
Even though the island has not seen a large amount of cases of contamination, inhabitants and refugees are instead troubled with inflation caused by Covid-19. According to Mansour, "the price of a kilo of chicken, when you can find some, is between 5 to 6 CUC in supermarkets. But supermarkets are empty, there is nothing. Then, if you want to get chicken you need to go to the underground market. A kilo of chicken there is not less than 10 CUC."
Since the beginning of the lockdown, stock replenishment has come to take an extraordinarily long amount of time. Supermarkets are empty of supplies and many food products are becoming scarce. As a consequence, underground markets have emerged. Prices have doubled, rendering access to food and water even harder than before.
The economic crisis is not new but has been exacerbated due to the decrease in tourism which is one of the main areas of national income. As long as the American embargo remains, the situation for inhabitants and refugees will not improve. The drastic consequences of the crisis will drive an already precarious situation which refugees face every day to the point of deterioration.
Futsal, indoor football, which was their way to escape the harsh reality of exile, is no longer possible. Today, we are republishing their story from last July, as they continue to live in isolation, distanced from their homeland, rationing and waiting…
HAVANA – Between Vedado district and the national bus station, in the heart of the capital city, lies Dauza Gymnasium. The colourful rows of seats surround a pitch that is normally reserved for handball practice. But today, no hand-ball game is allowed. The gym is dedicated to futsal, an indoor version of football with five players per team.
Today, five teams are taking part in the tournament: the first team is made up of Palestinian players, the second one of Angolans, the third one of Cuban students, and the last one is a mix of Afghan and Syrian refugees. They are all here to participate in the first "World Cup of Hope", organised to celebrate 500 years of peoples' solidarity in Havana.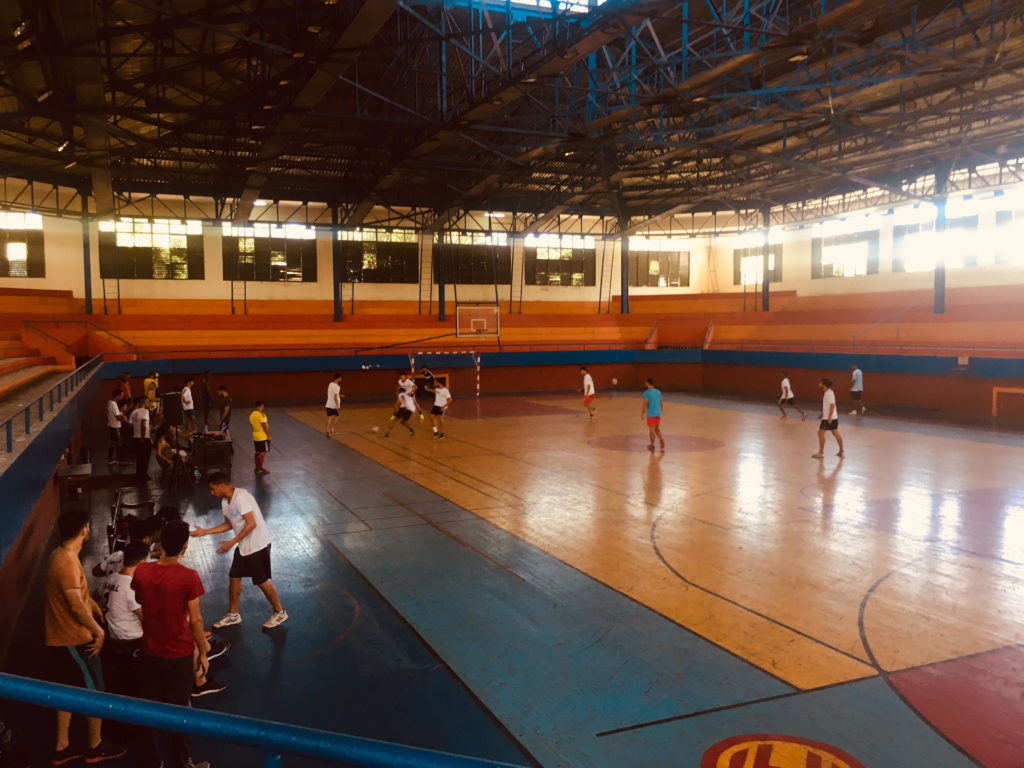 Cuban solidarity on display
It is 9.30 when the males-only games kick-off. In the first match, the Palestinian team plays against the Cuban students. The gym has no air conditioning. Instead, speakers resonate across the room playing Salsa music and Céline Dion's My Heart Will Go On.
Mario, a 30-year-old Argentinian man, organised the event. He is very friendly and gladly discusses the stakes of the tournament: "The aim is to highlight Cuban solidarity with foreigners and refugees." The players confirm that Mario is very dedicated to organising sporting events for the island's youth.
"There is no work for Cubans, even less for us…"
27-year-old Fajer, who belongs to the refugee team, is from Syria. In 2011, he left to study in Havana. He wanted to become a dentist. Nine years later, despite his medical degree, he struggles to make a living as a dentist. Nevertheless, he likes Cuba and its welcoming culture.
As Fajer lacks the documents that would enable him to work legally in Cuba, he only makes about 44 CUC per month. This includes the help of a few acquaintances who are also his only patients. Fajer cannot go back to Syria because "it is too dangerous, and in a state of war." Here in Cuba, Fajer feels safe, describing Cubans as "very respectful and welcoming people."
The problem, however, is that there is no work for Cubans themselves, meaning there is even less available for refugees. "The food shortage, the failing transportation network, and the difficulties make our everyday life very difficult", he explains.
Highlighting HCR inaction
The young man also denounces the silence of the UNHCR after he renewed his demand to leave Cuba two years ago. Since Cuba didn't sign the Geneva convention, it doesn't grant refugee status. This power only belongs to the UNHCR, which provides him with financial support every month. Cuba seems to be only a temporary stop for refugees before they are redirected to another country. Most of the refugees present that day shared the same experience, the same feeling of isolation.
Playing futsal to stay sane
Being far from their homeland and trapped on an isolated island with only a small refugee community, most refugees are compelled to apply for a visa abroad. This was the case for Mansour, a 34-year-old from Afghanistan before he obtained his French visa a few weeks ago. Now, he has been in Cuba for 5 years and speaks perfect Spanish.
Back home, he explains, "people in power kill us with weapons, but here they kill us with rationing and food shortages." The situation is very difficult for him. Thanks to Futsal, which has become his means of socialisation, he can forget his complicated and painful situation for a little while. Being part of a collective sport helps him stay sane and balanced.
"Cuba is nothing but a tourist paradise"
Hassan, a young 22-year-old Palestinian, doesn't see himself as a refugee. Today, just like all the other members of his team, he is wearing a jersey printed with the outline of the map of Palestine, filled with the colours of its flag. A few years ago, he left his hometown of Gaza to study Medicine in Cuba. He has been playing futsal for 15 years. "My team won the first match but lost the second one," he says with fierce determination, though he admits that playing under high-temperature conditions is very difficult.
This certainly won't stop his team from reaching the finals. Generally, the three men meet twice a week in another stadium not far from Dauza Gymnasium, in the evening when the temperature is milder. "There is not much else to do here", they admit. "The United Nations need to understand that there is no stable future for us in Cuba." Fajer finally adds: "Cuba is nothing but a paradise for tourists who come to enjoy the beauty of the island for a few weeks, that's it."
---
Every week we share stories from around the world in English. Follow us on Facebook, Twitter, LinkedIn, and Instagram to stay connected.
Support our work and independent journalism with a donation to Guiti News.